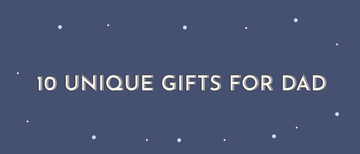 Get ready to show your dad how much you care about him! Father's Day is a time when you can share a nice meal, tell him how much you love him, and reflect on all of the times he said "yes" after your mom said "no." Here are 5 of our favorite thoughtful Father's Day gifts that are definitely dad-approved.

Let dad multitask with this travel-friendly gadget. He can easily ditch the frustration of not being able to find an outlet AND keep his hands warm in chilly AC spaces. He can keep it in his car or laptop bag for when he needs it most. This cool tech gadget for dad is sure to impress (and save him from those dreaded 1% moments).
Hands-down, one of the best Father's Day gifts this year is this charging stand. If he can't get enough of FaceTimes and fun videos, then he's going to love the freedom this stand allows. He can put his phone down and pick it back up when it's fully charged. Then, when he's done with it, it folds up for easy storage. 
There's always so much to plug in, but this keychain is bound to make his life way easier. He can easily use all of his gadgets without sacrificing space. This cool tech gadget is sure to make both work and play way more enjoyable for your busy, tech-loving dad. 
Looking for a thoughtful Father's Day gift? This customizable set lets you create something that your dad will truly connect with. The high-quality vegan leather will keep his precious laptop safe, and the customizable exterior will warm his heart. Try putting his name, business logo, or fun inside joke on it. He'll hold onto this unique gift forever.
Your dad needs an easy setup for his phone time. This phone stand helps him go hands-free so he can work, make calls or watch videos with ease. Plus, the foldable design lets him easily store it in a drawer, keeping his desk space clear and organized. He'll love the new freedom he gets with this fun Father's Day gift. 
Some dads live for a clean house. If your dad is always the one wiping up spills and pestering you to mop, then he is about to love these slippers. These cozy slippers will keep his feet toasty AND mop the floor every time he walks. This way, he can shuffle over to the fridge for a quick snack and get the house sparkly clean without even lifting a finger. 
Is your dad always on his computer? Get him something that acts as a (fun)ctional accessory for his tech life. The high-quality vegan leather will protect his laptop, while the laptop stand will allow his computer to be at the optimal height. This way, he can set up his workspace perfectly, even if he's on the go.
Every dad needs a gorgeous pen to lend out every now and again. This is the best Father's Day gift idea for the man who likes nice stationery. He's sure to love the feel of the high-quality metal and smooth ink inside. Who knows, he may even cut down on his screen time and move back to old-fashioned writing. 
Techie dads have a lot of gadgets. Sometimes it's hard for them to know how to make all of their gadgets work at the same time. This USB hub makes multitasking a breeze as it allows multiple items to be plugged into it simultaneously. And the airplane design gives this product a little extra something so your dad can have a less boring workspace. 
This thoughtful Father's Day gift is ideal for the dad who's busy but loves organization. He can easily track his schedule, write down his notes and jot down important thoughts. He'll love how easy working at his desk is when he always has this dream desk pad by his side. 
No matter what your dad loves, there is always something fun for him at Multitasky. Make his life easier with a tech gadget, enhance his life with something for the home or give him something custom to show him that you care. Click here and see our full list of "For Him" gifts. You're bound to find a few favorites.
Read more
Comments
✕