Beauty Gift Ideas for Girl Bosses Everywhere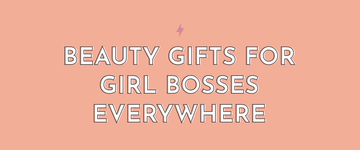 Building the perfect gift basket for the women in your life doesn't have to be difficult. We believe beauty gift baskets are some of the most appreciated gifts received by women. There are a lot of good reasons why you might want to throw together such a gift basket. Maybe you need to recognize the accomplishments of your team with a gift basket raffle at your company picnic or event. Or, maybe you just know a girl boss in your life who deserves a little pampering. Whatever brought you here today, finding unique gift ideas for women is likely one of your reasons. Whether you're shopping for your girlfriend, mother, sister, best friend, or co-worker, we've got a few beauty gift ideas for you to consider. 
Beauty Gift Ideas
We believe that the world falls into two basic categories: those who admire Liz Taylor's eyelashes, and everyone else. That being said, one item you may want to consider adding to a beauty gift basket is a heated eyelash curler. Enhance your natural eyelashes with this game-changing eyelash curler. Designed to be safe, comfortable, and easy to use, this heat-enhanced eyelash curler (lite version) is the perfect beauty basket gift idea for the beauty-minded women in your life.
Cool down and give yourself a refreshing spritz with this combination face mister and compact mirror. This convenient little gadget is perfect for midday touch-ups. It's also great for travel. If you're looking for unique beauty gift ideas, this one is sure to impress.
There's one thing that most women have in common—they need somewhere to store their cosmetics. This cute cosmetics box will keep all of your makeup orderly and accessible when you need it. Give the gift of organization and never fumble for your favorite mascara again.
This is the perfect travel bag for the adventurer who wants to look gorgeous everywhere she goes. Absolutely loaded with pockets and compartments, this travel cosmetics organizer has a place for everything. No matter how disorganized your makeup tends to get during travel, with this cosmetics organizer you will always be able to find what you need when you need it.
If you're used to using your phone's camera as a mirror, we have the perfect hands-off device for you. This foldable phone holder is exactly what you need to either hold your phone, to do your makeup, or to film a makeup tutorial for all of your fans. There's a mirror built into the phone holder which makes it double functional. It's a must-have for all beauty gift baskets.
This cute and compact travel comb is the perfect addition to any beauty box. It's always great to have a foldable brush or comb alongside your beauty supplies when you're on the go. Tidy up your look anytime!
Another beauty gift basket idea is to include products that provide protection from contamination. Who wants their lipstick to get covered in foundation dust? This makeup sponge case is both cute and practical and ideal for keeping your makeup sponges and your face clean.
Coco Chanel liked to say that whenever you leave the house, take one thing off. She said it in the pursuit of elegance. She was likely referring to accessories. However, we think that Coco would agree that removing lint is a suitable last step that can really make or break any outfit. You can't go wrong when you toss one of these washable lint ball removers into your beauty supply gift basket.
A great beauty gift idea is a scalp massage comb. This comb's thick, soft bristles make it perfect for lathering your hair in the shower, both for a deeper clean and for a soothing scalp massage. If the woman in your life needs a little pampering, this massage comb just might be the highlight of your beauty gift basket.
When you really want to make a beauty gift basket more luxurious for the recipient, add something special. A heated eye massager mask provides an instant, soothing escape from any busy, headache-inducing day. This is one of those beauty gift ideas that any woman would appreciate.
Hopefully, this gave you some beauty gift ideas to consider so you can make someone in your life feel special. That lucky someone will feel instantly glam!
Multitasky provides aesthetic beauty, travel, and office supplies. Browse here.
Read more
Comments
✕