Travel Tips for Packing More Efficiently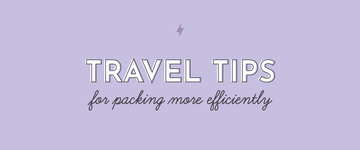 Traveling is fun! It can also be full of stressors. If you think about it, it's kind of crazy how much stuff we need to pack when we travel. It can be anxiety-inducing to remember everything you need to include on your packing list to ensure you'll be prepared for anything no matter where you go. On the other hand, if you get your packing game on point, then travel suddenly becomes much less stressful.
We've compiled a few of our favorite travel tips for packing light as well as packing tips for air travel. We hopes this helps you become somewhat of a packing expert. Then you can concentrate on your adventures without worrying about whether you remembered your phone charger.
Here are a few travel tips for packing more efficiently.
Travel Tips for Packing More Efficiently
Create A List
One of the ways to make sure you pack everything you need, without packing the kitchen sink, is to make a list. Here is a great carry-on bag list from from U.S. News. Check it off as you go so you don't forget the essentials. Additionally, here is a list from Smarter Travel when packing for air travel that includes all the items you might want to add to your suitcase. In preparation, customize your list as needed days before packing. Then if you think of something else you need to add, you can write it in. This relieves the mental load on the day of packing when you are more likely to forget things.
Organize Your Packing
There are two basic philosophies about packing a bag for any kind of travel:
A messy, stressful philosophy.
Or an organized philosophy, where you can find things easily.
There are a lot of good tricks for keeping an organized bag. Rolling your clothes is a good approach, for example. Rolled clothes take up less space, and if you do need to find something in your bag it's easier to locate desired clothes when they are rolled rather than folded. (BlueHorizon)
Another sensible trick is to make sure your bag is well-balanced for carrying. Pack heavy items at the bottom of your bag and lighter items on top. This will make lifting, carrying, and rolling your luggage easier.
One of the best tricks for organizing is to use bags inside of bags. Packing cubes are a popular choice. Making liberal use of small storage bags for small items is also a good choice. In fact, there are a lot of ready-made kits that are travel size in cute little bags or packaging out there. Some examples include this Pretty in Pink manicure set, which includes everything you need for a manicure on the go. Or our On-the-Go charging kit, which includes charging gear for all the gadgets you need. And they come with their own cute faux-leather bags, so you can just grab them and toss them in your bag on your way out the door.
Organize your packing. It makes travel a lot more fun.
Here are a few more excellent organizational tools that will make your travel life easier:
Pack Light
No matter where you're traveling or how long you'll be there, one of the best travel tips for packing is: pack to keep the best mobility. Travel is always more fun when your luggage is a manageable weight.
There are three essential travel tips for packing light:
Tip one: Pack less.

Tip two: Pack items that weigh less.

Tip three: Include multi-functional items that do double–or even triple–duty for you.
Packing less stuff can feel confusing. How do you know you'll have enough socks for the whole trip? And what about preparing for that unlikely contingency that may or may not happen?
To which we say: relax! 
Here are some strategies:
For example, find out if where you are staying has laundry services or if there's somewhere to do laundry nearby. This allows you to pack less clothes. Take half as much as you'll need for the trip, and plan on doing laundry part of the way through. Sensible, right?
Barring that, there are packing strategies you can employ to make sure you pack enough. One we've heard of is the 1-2-3-4-5-6 Rule. (REI) With this rule, you pack:
One hat

Two pairs of shoes

Three pairs of pants

Four tops

Five pairs of socks

Six pairs of underwear (plus one bra)
You can also pack lighter stuff. Replace metal items with plastic in your travel kit, like our Heat-Enhanced Eyelash Curler LITE. It weighs less than a similar item made with other materials, and every ounce counts.
One of the best tricks for packing light is ensuring that the items you're bringing fufill more than one need for your trip. For example, if you can pack a pair of pants that you can wear either long or short, that is a good trick. Zip-off pants or pants that roll up and strap in place as shorts are useful options. Dual-purpose items are ideal.
Here are some examples of multi-purpose items: 
Our Rainbow 3-Port Long Charging Cable plugs into USB on one end and splits into UCB-C, mini-USB, and an iPhone charger at the other end. Packing one cable instead of three makes sense. Or consider our PhonePal 3 in 1 PRO: Cooling Fan + Power Bank + Phone Stand (with Display Panel). It's a power bank for your phone, but it's also a stand that holds your phone at a convenient angle for watching videos or getting on a video conference. The fan is a great perk for when you're traveling to hot destinations.
Pack light. Make the adventure more fun.
Here are a few more multi-function, space-saving items for your travel kit:
Pack Travel-Appropriate Versions
Packing for traveling should be bite-sized. Everything should be travel-appropriate. Which in some cases means you'll need travel-sized versions of certain items. Liquid cosmetics, for example, should be travel-sized. (Under two ounces, which is precisely the size of our TSA-approved kitty-shaped silicone travel bottles.) But other items can be miniature as well to save room in your suitcase. Lint rollers are one of those things that you always forget, but you're never sad to have on a business trip. Toss one of our Washable Reusable Lint Remover Balls in your bag and run it over your outfit before going out. There's no need for a full-size lint roller. You'll thank us for it later.
Sometimes travel-appropriate means you have a travel version of an item so that you can leave your original item at home. For example, if you don't want to leave your hairbrush somewhere accidentally and would like to fold it up to fit better in your suitcase without catching on things, you might want to get a travel hairbrush. It's smart to include items like this Cute Cat Paw Travel Comb in your adventure kit, because they're compact and useful.
It's an excellent preemptive cure to travel headaches to know that your travel-appropriate versions of stuff you need will already be where you need them.
Do you have some favorite travel items you like to pack?
Multitasky provides cute and multi-functional accessories from must-have travel items to colorful office supplies. Shop here.
Read more
Comments
✕