Decorative Humidifiers for the Home or Office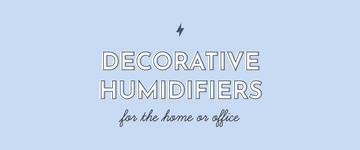 How often do you think about making the air you breathe nicer? Like more pleasantly fragrant and more comfortable to breathe. Probably not often, but when you feel sick and need to be cleared out, or would like the luxury of breathing in essential oils, a humidifier can seem like a dream come true. Not to mention, when you're facing a dry summer or a cold winter with the heater on, a spritz for your skin can feel like a glorious thing.
A humidifier is a necessary appliance in most households. However, often humidifiers get tucked away until they are needed because they're eye sores. But it doesn't have to be this way. Decorative humidifiers can add fun or beautiful decor to a room's atmosphere and aesthetic. That means you don't have to instantly take your humidifier back to the cabinet and hide it as soon as you are done using it.
Decorative room humidifiers have a great advantage in that you can happily keep them out in the open. This means you're more likely to use them more often. Breathe easier knowing that you're improving the quality of the air in your home or office while beautifying simultaneously.
These are our favorite decorative humidifiers.
Decorative Humidifiers
A rule in designing the latest and greatest in office chic goes a little like when in doubt, disguise it as a donut…Nah, we're just kidding. That's not actually a rule. It's just a really good idea. We love donuts! And this cute humidifier embraces that design aesthetic. Equipped with two modes–constant and intermittent–this donut-shaped humidifier's nano-fine mist will sweeten the atmosphere of your home or office.
If you like a cozier atmosphere, this might be the humidifier for you. This Fireplace Flame-Effect Humidifier Lamp looks like a little fireplace. It provides a warming makeover to your home or workspace. A fire humidifier is the perfect way to cope with the way the winter wind dries out your skin–or, for that matter, summer. Also, you can aerosol your favorite essential oils, and make the room smell amazing!
For a more zen look, a floating humidifier is exactly what it sounds like: it's a cute little humidifier that floats on a bowl of water. Because this humidifier doesn't need a reserve tank of its own, it's also extremely portable. Just stick it in your bag before you leave and drop it in a bowl of water wherever you end up. It's perfect for when you're at work or on vacation.
About the size and shape of a candle, this is an aesthetic humidifier that counts as a desk decoration. Add a soothing touch to your workspace or your reading nook at home with the flick of a switch. This humidifier also acts as a cute accent lamp.
For a slightly different, but just as charming look, this white or pink humidifier looks like a nick-nack that you leave out just because of its interesting shape. Be the envy of the office. Everyone will want one and you'll have the satisfaction of being a trendsetter.
This portable humidifier is possibly one of the greatest portable gadgets ever invented. It can deliver soothing and fragrant air wherever you go. This humidifier is not much bigger than the cap of a bottle. So take it in the car, to a hotel, to the office, and more.
Humidifiers for Days
Running a humidifier in your home or office space just makes it a more comfortable place to be. Get the amazing benefits of moist skin and better air. Plus, you can add essential oils, and ensure that your home or office smells amazing. Just be sure to stock up on humidifier refills, because you'll probably need them. Take a look at our complete humidifier collection.
Multitasky provides decorative humidifiers and other office, home, and travel accessories. Find aesthetic gifts and more here. 
Read more
Comments
✕