Relaxation Gifts For Her That She'll Love After A Hard Day's Work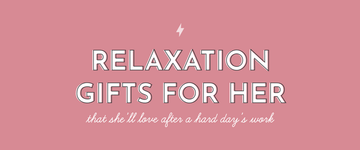 You work hard. We live in an age with a lot of opportunities for rewarding work. Some work is rewarding in itself. There comes a point, however, when the "reward" for work needs to be more than results and accolades. The truth is if you don't relax every now and then, even the best kind of work gets, well, tedious. 
We have a few relaxing gift ideas for the females in your life who work hard whether at home, in the office, or elsewhere. Relaxing gift ideas for the overworked help to create a positive feedback loop that increases productivity. So, if you're a boss or coworker these can be the perfect gifts. Or, you might be a friend, sibling, or parent, just trying to help one of your favorite overworked people unwind. Doesn't that sound nice?
In the case of your overachievers, putting together a relaxation gift basket will be much appreciated. If you're wondering what relaxation gifts for her to include, keep reading.
Relaxation Gifts for Her
Here are a few of our favorite relaxing gift ideas for the overworked.
Among the reasons why some over-achievers have trouble relaxing is the annoying sense that they could be doing something useful instead of relaxing. One clever way to counteract that instinct, and make relaxation feel like it's also constructive, is multitasking. These mop slippers are an ideal relaxation tool for over-achievers. They're relaxing, comfy slippers that provide relief from uncomfortable formal footwear. At the same time, their removable and washable soles double as mops, so your overachievers can clean the floor while relaxing. We love a good twofer.
Speaking of twofers, say you could keep something in your workspace with both health benefits and mental relaxation benefits, wouldn't that be great? Look no further! This flame humidifier looks like a mini fireplace, providing a soothing visual to watch when you need a mental break. At the same time, it's a humidifier. So you can literally improve the atmosphere of your workspace. You can even add scents and essential oils to the humidifier to indulge your sense of smell, while aiding your serenity.
Say you're dealing with those moments directly before or right after some nerve-inducing experience at your job. Perhaps you just got out of a stressful meeting and the office is hot. It would be relaxing to be able to cool off, right? Definitely! A personal facial mister will help you cool off after stressful moments. This portable facial mister also has a built-in mirror, so you can touch up your makeup in your spare moments.
Name something more relaxing than a scalp massage. Don't worry. We'll wait…. Okay. We won't wait that long. Because we're so excited to tell you about this scalp massage comb. In theory, this waterproof comb is designed with the thought of using it in the shower. That's an ideal place for a scalp massage. But that may not be the only time you want one. You can use a scalp massage comb whenever you want. It might be fun to store it in your desk drawer when you need a moment of calm. We won't tell.
Every now and then, we all just need to check out completely for a few minutes. If your day is just getting to be too much, and you're starting to feel a headache coming on, it's time for a break. A heated eye massager is a great way to counteract emerging headaches before they ruin your day. Heck, maybe you aren't getting a headache at all. A few minutes of heat massage around the eyes is a luxury at any time. Treat yourself.
What's one of the most pleasant little luxuries you can encounter in your workday when it's hot outside? That's right: a cross breeze. Okay, so maybe you have a different answer, but a cross breeze is never unwelcome. Especially a nice, gentle one that doesn't disturb your notes. So suppose you could wear your own cross breeze, decide when it stops and starts, and occasionally become the most popular person for miles, or at least the next few cubicles over. Look no further! This wearable neck fan is really handy when the office is hot. This fan is particularly cool because it can also serve as a power bank or a stand for your phone. That makes it super useful too!
And, finally, if what you truly need to relax is a complete change of pace, have a karaoke night to unwind. Singing is proven to reduce stress. So do it! If you have a portable karaoke machine you can bring it to a friend's house or the next work party.
So, there you have it. These gifts can make up an amazing gift basket of relaxation gifts for her. Or, you can just give one as a solo gift. Help your coworker, friend, boss, or family member unwind. They'll thank you for it.
Multitasky provides relaxation accessories for women, colorful office supplies, and must-have travel accessories. Browse here.
You May Also Like:
Read more
Comments
✕