10 Pink Desk Accessories You NEED for National Pink Day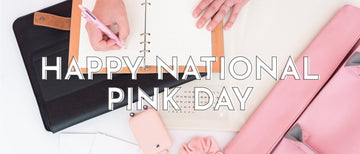 It's time for us pink lovers to unite this June, as June 23rd is National Pink Day. Wear your favorite rose-tinted shades and surround yourself with all things pink! At Multitasky, we love sprucing up our workstation with tons of stylish pink hues— so we're sharing some of our favorite pink desk accessories with you! Happy shopping! 
Pink Desk Accessories
Pink Tech
Multitasking Foldable Ring Light (3 Phone Holders)

Creating tons of content? We got you covered. This pink ring light holds ALL of your gadgets so you can focus on capturing that perfect selfie or creating a viral reel. Since it's adjustable, you can use it to capture your dance moves then settle down for a beautifully lit Zoom call (no window necessary).
Retractable 3-Port USB Keychain

If you're swimming in cords, this pink tech gadget is going to save the day. Your gadgets can happily coexist without getting all tangled up on your desk. You'll wonder why you didn't make your life this easy months ago.
Pink Office
If you're ready to ditch the boring neutrals and dive straight into the pink life, you have to get started with the Ultimate Work Station bundle. It comes with a whole slew of pink office supplies that will last you way longer than a single National Pink Day. Inside, you'll find a desk pad, everything notebook, flyport USB hub, erasable pens, multi-magnet duo, clampy bendy lamp, spa humidifier, bulletin board, rose gold clips, and phone stand. You'll truly turn a boring workstation from drab to fab with these pink desk accessories. 
Portable & Foldable Laptop Stand
National Pink Day wouldn't be complete without some fun pink for your laptop too. This laptop stand puts your precious computer at the ideal eye level so you can ward off eye strain and neck tightness. And its portable design means it won't take up too much space in your bag. 
Customizable Vegan Leather Laptop Sleeve Set
If you're into stylish pink desk accessories, you're going to love this personalized gem. Add your name or logo to the sleeve and get that 'extra-legit, I'm a CEO' feel added to your pink-inspired workstation. You'll also love how smooth and soft that vegan leather feels when you're toting it to your favorite coffee shop. 
Multi-Angle Extendable Desk Phone Stand
Your phone deserves to partake in the pink fun! This phone stand makes going hands-free a breeze. Call a friend while checking your email or watch a video while taking a midday snack break. You seriously can do it all with this pink desk accessory.
Pink Home
If you love pink, chances are this cheery color relaxes you at the end of a long day. Add this spa humidifier to your workspace to soak up all the oasis vibes during and after work. Imagine how it'll feel when you slice up some cucumbers and put on your fav face mask. What a way to celebrate National Pink Day!

Multi-functional Mini Suitcase

Forget hot girl summer...we're all about on-the-go girl summer! This mini suitcase will transport everything from your charger to your stationery to some tasty snacks. No matter where life takes you, you can always take your favorite things in this stylish pink piece.  
Our best-seller helps find light in any situation. This pink, portable lamp has a super strong clip that grips anything. Use it to illuminate your space for a late-night work sesh or take it with you as a reading lamp. Your eyes do a lot for you, so treat them to ideal lighting all the time. Trust us, you won't leave home without this little lamp.

Traveler Power Bank / Hand Warmer

Pink lover + multitasker = you need this dual-action pink gadget. Use this suitcase as a hand warmer to cure chilly fingers AND charge your phone. It'll be easier to type out some emails, and you'll never have to deal with the dreaded 1% ever again.

Happy National Pink Day! We're about to turn everything we own into a pink oasis, and we hope you do this same. This upbeat, feminine and calming color has a way of elevating our workspace, and we're so excited to share it with you! 
You May Also Like: 
6 Steps to Creating the Perfect Workspace at Home
How to Create Opportunities for Other Women
Read more
Comments
✕