7 Eco-Friendly Office Supplies You Need for Your Home Office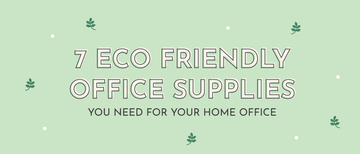 Lately, there's been a hot topic in the news...the planet. It's no secret that our Earth is precious and needs our help right now, but you may be wondering how to do your part. Our favorite way is to focus on conscious consumption and purchasing one item that has multiple uses. 

Sure, you could eat less meat, adopt a zero-waste lifestyle and do your work by candlelight, but lifestyle changes can be tricky to stick with. By incorporating eco-friendly products into your home and office, you can make a statement and maintain your aesthetic at the same time.


Here are our favorite 7 eco-friendly office supplies you need for your home office.
As soon as you feel the slightest chill, it can be too easy to up that thermostat or turn on the heater. Instead of using lots of energy to heat your house and increasing your electric bill, try The Traveler Power Bank. It will warm up your frozen fingers and help your entire body feel a bit toastier. Combine it with a fluffy blanket and your favorite sweater, and enjoy your chilly nights while saving energy. Plus, this gadget is also a fun power bank. 2 in 1!
Chances are, you have a lot of pens lying around. If you're always purchasing cheaper pens that you don't love...they're probably running out of ink, getting lost, or making it to the pen graveyard. The Japanese Pilot FriXion Erasable Tricolor Pen is a high-quality writing utensil that gives you three pens in one. This way, you can enjoy your writing time and cut down on the number of pens you're buying. This is one of our top-selling items in our list of eco-friendly office supplies you need for your home office. 
3. The Vegan Leather Business Card Holder
Vegan leather is a great way to enjoy the looks of leather while still being eco-friendly. The Vegan Leather Business Card Holder is professional, customizable, and stylish, meaning you'll hold onto it for years to come. Plus, if you're not losing business cards, they're making it into the hands of contacts and not ending up in a random drawer.  
Stop turning on the main light and light up your life with the perfect amount of illumination. The Clampy Bendy Lamp is a rechargeable lamp clip that packs a punch (or a bolt rather), making it the perfect reading buddy or late night work bestie. By cutting down on the amount of energy you're using, you're helping the planet without compromising on your room brightness. 
This mini humidifier is the solution when you want a refreshing office oasis, but without using the pounds of plastic that it takes to make a regular full-size humidifier. Simply drop The Drift Bottle Mini Portable Humidifier into a glass of water and watch the mist start. You're essentially swapping out plastic for glass that you already have. Plus, you can't deny that that's not the cutest little gadget you've ever seen.
A bottle humidifier is the answer to your dry air dilemma. Similar to The Drift Bottle Mini Portable Humidifier, The Anywhere Portable Bottle Humidifier can go anywhere you need it. Just drop it into a larger glass or bottle and let the refreshing mist begin. By opting for a mini humidifier like this one, you're using far less plastic than going for a humidifier that holds gallons of water. 
This vegan leather notebook is the answer to your writing needs. By customizing it, you're making it yours. Enjoy the high-quality feel and hold onto it for years as you write down your thoughts, dreams, goals, and reflections. Who needs leather when vegan leather is this aesthetically pleasing?
When it comes to saving the planet, you may be tempted to shoot for perfection. Mother Earth doesn't need us to be perfect, but we do need to make progress. By making conscious purchases that limit certain materials, you can have a workstation that's both stylish and eco-friendly. By shopping for multi-functional home decor and office supplies, you are committing to doing more with fewer items. That's always a great step when it comes to making your life more eco-friendly.

Plus, here at Multitasky, we're always looking for ways to make our packaging more fun and Earth-friendly. Our eco-friendly velvet pouches can be reused to house your jewelry or wrap a friend's birthday present. Your options are endless.
You May Also Like:
Read more
Comments
✕