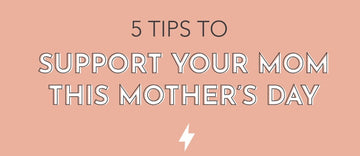 It's almost Mother's Day, and you know what that means—making breakfast in bed and giving flowers to the MVP woman in your life! But as much fun as this romanticized Mother's Day image is, the truth is your mom will probably be running around, selflessly supporting you and doing 8 million things at once like she always does. Because moms are super humans.

Here's how you can *actually* support your super mom this Mother's Day, and trust us when we say these gestures will go way further than some simple flowers.

1) Give her space to relax

If your mom is a GO GO GO person carving out time in her day for relaxation is going to feel weird. Help her relax by playing her favorite song, sending her some spa-like goodies (like this elegant humidifier lamp), or doing a chore for her so she can lounge on the couch.
When she's making sure everyone is all good around her, all of the time, it's important for her to feel that her self-care time is a necessity. By gifting her the
Super Mom Care Package
, she can relax with our bestselling spa humidifier and fun floor mop slippers.
2) Make connecting with you easy

She loves when you call her and tell her about your life, but let's be real...sometimes life gets in the way. When work piles up or your partner plans a flashy getaway to the beach, calls with your mom take a back seat. Even if you can't see your mom in person this year, Facetiming her and telling her how much you love her would mean a lot.

In the Super Mom Care Package, she'll get a multi-angle extendable phone stand. This way, she can easily set up her smartphone and see your beautiful face whenever she misses you, or you miss home. It's a great way to connect quickly multiple times a week. And since it's hands-free, she can multitask talking to you and doing household tasks.
3) Send her appreciation


Your mom does a lot for you, and we are sure you appreciate every moment she spends making your life easier and cozier. Sometimes, though, it can be easy to take this unconditional love for granted and stop appreciating her for the little things she does.
This Mother's Day, send her a letter detailing how much you love her. This simple gesture will allow you to share your feelings and make her feel loved and appreciated. Another way to appreciate her is to send her the
Super Mom Care Package
because nothing says "you're special to me" better than goodies that make her life easier and more relaxing.

4) Give her versatile gifts

Flowers and chocolate are great, but this year, try giving her something that she can use to enhance her life more than just a simple pleasure. Maybe it's the gadget she's been eyeing or a fun purse that you KNOW she'd love.

Another way to give her a purposeful gift is to give her something that can be used for multiple purposes. In the Super Mom Care Package, she will receive floor mop slippers. They're cozy enough to lounge around in, but they also clean up the floor whenever she walks around the house. This way, she can relax more and clean less.
5) Help her out whenever you can

Your mom does A LOT. And this can lead to overwhelm. One thing you can do this Mother's Day is take a tough or tedious task off of her to-do list. Clean her bathroom, organize the basement, or take her car in for an oil change. If she has to do less work, then she can spend more time doing the things she loves.

Support her and give her the Super Mom Care Package, because inside she'll find all sorts of fun goodies that will help her multitask, save time, and of course, relax.

And remember, the best gift you can give your mom this Mother's Day is a big "I love you!" She is your superwoman, and all she wants is to be close to you. Whether it's in person or virtual, giving her your time, compassion and presence will bring the two of you closer.

By gifting her the Super Mom Care Package, she will receive the spa humidifier, multi-angle extendable phone holder, and floor mop slippers. Combine this mom-approved package with quality time, and you're on your way to making this a Mother's Day to remember for years to come.

Read more
Comments
✕