Female Founder Series with Vivian Lee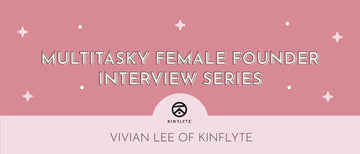 This week we sat down with Vivian Lee, founder of the amazing, wire-free bra line Kinflyte. 
How did you start your entrepreneurial journey?
Prior to launching Kinflyte, I enjoyed a career in marketing and tech that spanned over twenty years. After college, I got my start in TV broadcast journalism, which took me from Charlotte, North Carolina to the Nebraska Panhandle. I met interesting people along the way who helped me gain perspective on the unique experiences and challenges they faced in life. 
After a brief stint as a journalist, I transitioned to a corporate career and enjoyed the mental stimulation of working in the video game industry and consumer tech. I worked at Electronic Arts and Sony, and took on executive roles at tech startups in Silicon Valley.
The big epiphany happened when I became a mom, and realized that I wanted to spend more time with my kids and pursue a dream that was important to me. At that time, I had a crazy 3-hour daily commute, was working long hours, breastfeeding, and coping with the challenges of raising two young kids. My back and neck were hurting, so I tried all kinds of products in the market. Frankly, I just wasn't satisfied with the posture aids available for women. I was determined to create something better, so that is what inspired me to launch Kinflyte.
What makes Kinflyte innovative and different?
I created Kinflyte with a mission to help everybody move better. As women, our bras and undergarments are the most important things we wear, so it only made sense that we should integrate posture support into the design of everyday essentials. I partnered with a talented performance wear designer who had created apparel for The North Face, and we co-created the designs that became the basis for Kinflyte. We took it a step further by developing and testing prototypes with a Portland-based innovation lab, founded by a former Nike exec. I was able to kick the tires, gather feedback and fit test with different women and movement professionals.    

At launch, we developed a capsule collection that included a posture bra, top with built-in bra support, and hi-rise bottoms. We took a 3D approach in constructing our line, as our apparel is designed to apply targeted compression and support in the areas of the shoulders, back, and chest. This was a far cry from traditional bras, which are (typically) not ergonomically designed.
Our apparel line is more intricate in construction and thus time consuming to produce. What makes Kinflyte unique is these are solutions-oriented bras and modern essentials that promote proper alignment through postural cues. As someone who appreciates fashion, our designs are influenced by art deco, couture, and even classic Sci-Fi films. Kinflyte has an iconic look, which sets it apart from your traditional bra or sports bra.
Tell us more about what it means to build an inclusive brand.
With a solution-driven focus, I always envisioned Kinflyte to be inclusive of different sizes, shapes, lifestyles, and orientation. Our size range runs from XXS to 5XL, and we'll be adding 6XL later this summer. We have different styles that support the different needs of women, and we currently support band sizes 28 to 58, and cup sizes A to K.
The majority of our bra styles have pocketed cups, so they are a great alternative to mastectomy bras and even nursing bras. This was by design, as each person has specific needs when it comes to a comfortable and supportive bra.
We continue to iterate and expand our size range, and support larger cup sizes. Bras are actually quite complex to make, and it takes a lot of structural engineering in thinking how they will be worn and used.

Why is good posture so important?
Attaining good posture is difficult in today's tech-fueled world. We spend countless hours working and multitasking with our laptops, tablets, and smartphones. As women, we sometimes find ourselves restricted because of our anatomy. We carry more weight in our chest, and there is the physicality of the type of work we do when having and raising children.
With proper alignment, we reap significant health benefits. You experience better breathing and reduce unnecessary strain on your back, neck, and shoulders. This is an important way to prevent chronic back pain. Good posture can also improve your energy level, general mood, and aid in digestion. 
Posture is also intertwined with how we present ourselves. With better posture, you'll look more youthful, slimmer, taller, and exude confidence.
How do you overcome limiting beliefs?
That's a great question! When I came up with the concept of Kinflyte, I had a few friends who chided me, telling me my idea was terrible. Sometimes your harshest critics are the people who are closest to you, and I was the underdog. Rather than give up, I took that as a sign that I was on to something important and valuable. I doubled down on my beliefs through extensive research, user testing, and talking to customers. 
As an outsider to the fashion industry, it's definitely been an uphill battle to be seen and heard. But, I truly believe in the mission of Kinflyte, and I know that in my small way, I can make a difference. It always takes guts, hard work, and thick skin to pursue your dreams. That is what makes the entrepreneurial journey both challenging and rewarding.
Read more
Comments
✕