Cute Desk Ideas To Improve Your Workspace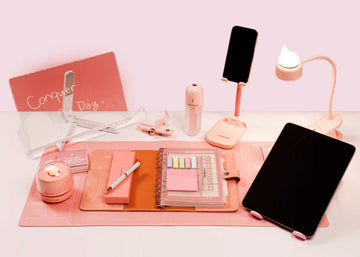 Your workspace should be set up to bring out the best in you. It should be your place of power, and thus, it should be customized to reflect your unique sense of style. However, if you wander around office supplies stores, you will be hard-pressed to find cute, girly desk accessories amongst the thousands of stark, grey, industrial designs. Who decided that the industrial look should be for everyone? We believe that having cute desk and office accessories is not only refreshing but a necessity. If you're looking to add some color and character to your workspace, here are some of our favorite cute desk ideas.
Cute Desk Ideas
One of our favorite cute desk decor items is this innovative Flame Humidifier. It's a portable, flame-free fireplace that will warm up your office space and keep the air moist simultaneously. Better yet, it will create a calm, soothing ambiance in your workspace. You can even add your favorite essential oils, and make your office smell amazing!
This handy little desk vacuum is as cute as it is powerful. With 70 minutes of clean time on a single charge, you can say goodbye to dirt, dust, and crumbs in mere seconds, whenever the need may arise. How cool is that? This tiny rechargeable vacuum is the perfect cute desk accessory for anyone who wants to keep their space tidy.
Let's shine a light on this situation. This practical and stylish little lamp is the perfect cute desk idea for adding to a reading nook or workspace. Shine some extra light on your desk in the evening. Or, in a pinch, it's an excellent way to get extra illumination for that last-minute teleconference or video creation. No matter how you have your desk set up, we believe a bendy lamp is always in fashion and always useful.
How many times have you wished you had just one more outlet to plug in your workspace essentials? This cute USB hub quadruples your available plug-in power, making multi-tasking so much easier. Adding some flair to your desk space has never been easier than with this stylish yet practical plane-shaped USB hub.
If you're a content creator and need to create studio space, this portable ring light is a must-have! Not only is it self-powered, meaning no wall plug is necessary, but it also charges your phone while you use it. This amazing device extends to full standing height, and folds down completely flat for easy storage and instant grab-and-go accessibility. This set includes three ring lights designed to work with either Android phones or iPhones.
Your collection of stylish desk accessories wouldn't be complete without a good charging stand for your phone. Nothing is more in-style these days than hands-free video chatting. This easy-to-use foldable charging stand and iPad holder allows you to video chat with clients or watch your favorite videos, hands-free and without draining your battery. Compatible with iPhones and Android devices.
Sticky notes are always useful, and we believe that sticky notes with words of encouragement and inspiration are even better! If you're like most career-oriented women, you wear many hats, and you have a lot going on. With this cute desk idea, you can get your life in order a little every day, all the while reminding yourself of what you are capable of accomplishing!
If working on your laptop is something you do all day, every day, you likely know how uncomfortable it can be. Eye strain and neck and back pain are all very common complaints for people who sit at a computer day in and day out. However, this adjustable, easy-to-use portable laptop stand solves these common complaints, making the laptop a more comfortable tool to use.
There are few things more annoying than a cluttered, messy desk space. If you're looking to elevate your daily routine, this vegan leather pink desk mat is the cute desk decor item you won't want to be without. Equipped with convenient pockets and a built-in calendar, the Ultimate Desk Pad will help keep your widgets and gadgets in order, allowing you more time to focus on what's important. 
Multitasky
offers an array of stylish desk accessories for women to keep their workspace looking chic, whether at home or at work.
Shop now.
Read more
Comments
✕