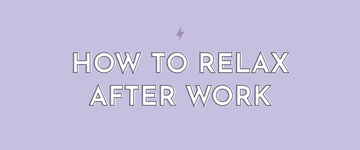 It's important to figure out your favorite way to relax after work. Not all of us know how to relax after work. Some people treat work like a hobby. People might get home from work, get their evening in order, and then try to relax while catching up on more work. Sometimes we treat staying busy as a sign of success. But if you don't relax after work, then what are you working for? Additionally, if you don't find a way to chill after work, then you will probably start seeing your productivity drop. Most people can't sustain working while avoiding relaxing, without impeding performance. However, it isn't always obvious how to relax after work without alcohol, for instance. Or how to relax after work without TV. 
It's easy to forget how important it is to relax after a stressful day. A lot of us treat relaxation like a luxury or an afterthought. However, research shows exactly why it is important to unwind after work. Relaxing enough improves cardiovascular health and mental health. This is cool and all, especially since it's backed up by science–go science!–but there's more to it. There are also a lot of fun things you can do to relax!
A lot of us default to the two standbys of relaxation: alcohol and TV. There's nothing wrong with a drink with dinner, and there are a lot of good TV shows on. But is it really relaxing if your heart is racing? That partially depends on which show you are watching.
However, there are a lot of other things to do that actually relax you rather than just distract you. Here are a few:
How To Relax After Work
1. Read a book.
Aren't we always saying we think we should read more? What are we waiting for? Permission or something? Well, here's your permission: Read more. This clampy bendy lamp will be your perfect reading light when you cozy up under a fluffy blanket to relax with a good book.
2. Take a long bath.
Dim the lights, get out your bath bombs, and bathe until your heart's content. Then put on your fluffiest robe and a pair of mop slippers to finish your night in bliss.
3. Explore your neighborhood.
How many pieces of random trivia can you tell someone about your neighborhood? Your mission is to discover three things you didn't know already. Go out and take a walk and get some fresh air.
4. Do some yoga or some other light exercise.
It can actually be more relaxing to move a little bit after a workday. It may sound counterintuitive, but in reality, it'll likely help you to unwind.
5. Practice some mindfulness exercises, like meditation.
This manifestation box helps you meditate with relaxing additions such as a candle, humidifier, essential oils, and more.
6. Do something creative.
Arrange flowers. Draw. Practice an instrument. Do you have some clay? Make a teacup. Why not? The world gives you so much. It isn't such a bad idea to think of something you can give back.
7. Journal or problem-solve by writing.
Journaling isn't for everyone, but some people find it rewarding to write about their day's stresses in a notebook. It can be cathartic to some people to problem-solve on paper. If your mind is racing and you just can't relax, pull out a vegan leather organization notebook and put your thoughts to paper. If you're a pen person, you'll love the addition of this deluxe metal ink pen.
8. Sing.
Did you know that singing reduces cortisol and relieves stress? This mini karaoke machine helps make your worries float away. It's sure to bring out some smiles too.
9. Create ambiance.
Sometimes you need your surroundings to look calm in order for you to unwind. Dim the lights and use this flame humidifier to change the mood of an overstimulating room.
10. Sit someplace with a view and just watch the world go by.
Just being somewhere quiet can help you relax. Sitting by the ocean, in a park, or standing over a mountain lookout can be just what your soul needs.
Let's make a pact: you figure out how to relax after work, and we will too. Deal? Deal.
You May Also Like:
Read more
Comments
✕