Plan The Perfect Karaoke Night With These Karaoke Night Ideas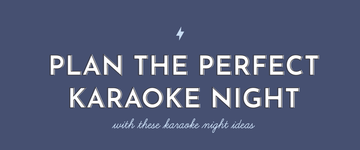 Five words that'll save even the dullest office party:
"I brought my karaoke machine!"
All right, we admit that a karaoke ambush might be a little more than everyone can handle. I mean, we think it's great—bring it on. But there are those who need to ease into karaoke night. Not everyone can go from zero to "Holding Out for a Hero" in sixty seconds. It might be smart to have a plan—more on that in a second.
In addition to a good plan, you need the best equipment for the job. You can always rent karaoke equipment. There are companies that rent machines and microphones. However, owning your own karaoke machine creates so much more flexibility. We carry the best on-the-go bluetooth karaoke machine with wireless microphone (if we do say so ourselves.) It's the perfect thing to have on hand in the event of spontaneous karaoke nights. Or planned karaoke nights. Those are fun too.
Check out this awesome mini karaoke machine. It comes in pink or blue and is gorgeous. It's the perfect machine to bring for an impromptu, or even not impromptu karaoke night.
If you want to have the best karaoke night ever, here are some hot tips for making your next karaoke night a smash hit. (AvistaRentals)
Karaoke Night Ideas
Make It a Themed Night
Often if you tell someone they can sing anything they like, they suddenly can't think of anything. It's not called the Restaurant Menu Effect, but it seems like it should be. Too many decisions make it difficult to decide.
Instead of running an open-ended karaoke night, where people can pick any song that comes to mind, make up a theme. It's amazing how much easier it is to remember songs you know and like when you need to match them to a theme.
Your theme can be an era. The 70s is a great karaoke theme. It can be a theme by genre. Skate Rock anyone? Or, it could be a theme based on something more personal. There are thousands of amazing love songs out there!
Choose something that sounds fun.
Set Up a Song Cue in Advance
You can also create a playlist for the evening. Then when people come to your karaoke night, they will be able to pick tracks from a specific list of songs that are appropriate for your evening. You may find that it stimulates people's imagination and sense of fun to choose from a set list instead of all the songs in the world. Just make sure you don't go too niche and have some of the most well-known karaoke songs listed.
Step Up the Friendly Competition
Prizes for the evening's performances are a great way to make people feel involved. But don't be dull and just hand out a prize for the best performance. That's no fun. Make some thoughtful choices, and think about the people who might be there. Do they have a good sense of humor? Maybe a prize for the most hilarious performance is in order. Do they like dressing up? Maybe there's an award for the best imitator. Make it suitable for the people who are coming.
Make Someone the MC
It might be tempting just to turn on the karaoke machine and let the party take its own shape. The problem is, not everyone will voluntarily get involved with karaoke even if it's available. In fact, people are more likely to avoid it. If you identify someone in your community who is the kind of person who is good at getting people involved, it would be smart to ask them to MC your party. And remember, if you can't think of someone that describes, then it might describe you.
Our karaoke machine is so easy to use that it'll turn practically anyone into a DJ. Record scratch!
Host a Karaoke Night Anywhere, Anytime
If you want the best portable karaoke machine with a wireless microphone, we've got you covered. You can host the best karaoke night ever with our mini karaoke machine. Our mini karaoke machine speaker has everything except the party. Some features include voice modulations, like baby voice, KTV, or gender-switching so that you can have fun with it. Bring professional-grade karaoke to every party. And during those lulls when the party is all about socializing, put down the mic and use the speaker to play music. The 1200mAh battery provides four hours of continuous playback. Plus, our memory playback card feature lets you listen without using your phone. And it all comes in an adorable, convenient little package.
It's like a party in a bag. Just add some cool people!
Read more
Comments
✕