Must-Have Items For Your Carry-On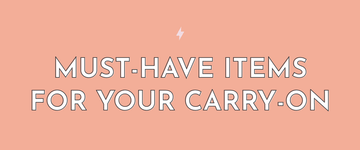 The world can be your office. Many of us can pick up the most essential items in our workspace, pack them up, and fly to another city. It used to be that going to another place would mean a complete disruption to your work. But not anymore. From a cafė in New Orleans to a lodge in Aspen, you can change the surroundings of your office by getting on a plane with your essentials.
Whether you have a lot of work trips or just a few, you need to know the latest from TSA. It can ruin your day if you're not up with the latest news on what you can bring on a plane carry-on.
So now you might be asking, what can I bring in my carry-on? And what size of personal items work for a carry-on? If you know ahead of time, you'll set yourself up for smooth travel. At the same time, make sure you're aware of what is not allowed on a plane carry-on. Those trash cans at the end of the TSA line are full of some pretty choice items that added to someone's bad day. Don't be one of those people! Prepare yourself with the latest tips from our friends at TSA by clicking here.
Since you're wisely prepping, look over our list of must-have items for a carry-on. It has some of our favorite essentials. This stuff is all fine with TSA. We checked.
Bon Voyage!
Must-Have Items For Carry-On:
Kitty-Shaped TSA-Approved Silicone Travel Bottle (2oz)
It can be tough trying to remember exactly how many ounces of liquid are permitted in your carry-on. These TSA-approved travel bottles are the proper size. So, you can simply fill them with your favorite shampoos, lotions, or whatever you like. You'll be at ease knowing that these cute, silicone travel bottles will not cause you any delay at TSA. Additionally, they are soft and easy to squeeze, which makes them hassle-free when you arrive at your destination.
Slim Travel Toothbrush Holder
It's wasteful to get a new toothbrush in every town you visit. It's also gross when you take your toothbrush out of your bag and find unwanted liquids or lint on it. Our travel toothbrush holder solves both problems. You can store your toothbrush in a protective case. It comes in cute colors too.
Macaron Cute Power Bank / Hand Warmer with Mirror
Packing your carry-on is all about saving space. So, if you can get neat and cute gadgets that do more than one thing, it's a win-win. Never worry about a low battery. This cute power bank charges two phones at once. You can also use it as a hand warmer. At the same time, it's also a compact mirror. In terms of both cuteness and usefulness, our macaron power bank duo is about the best thing ever.
Traveler Power Bank / Hand Warmer
This traveler power bank looks like a cute little suitcase. Have you ever been stressed while traveling when your devices are about to die and there isn't an outlet to be seen? A traveler power bank is essential for everywhere modern workflow happens. Our dual-purpose power bank will charge your devices and warm your hands when needed.
Travel Charging Kit
This travel charging kit is convenience in a pouch. It includes the traveler power bank, a retractable 3-port USB charger, and a travel cord organizer pouch. Keep your devices charged and your cords from tangling.
Reusable Lint Remover Ball
When you arrive at your destination, you have just been through one of those experiences that leaves few people looking their best. At that point, you might have something important to do right after leaving the airport. Maybe you are meeting someone or have an important event to attend. In moments like that, there are few things more convenient than a lint remover. It sounds like a small thing, but it can go a long way toward restoring your confidence after a long plane ride.
Beyond including some of these items in your carry-on, you'll want to pack a change of clothes in case your suitcases get lost. Carry-ons should be filled with the most important items to get you through a day and a night, in case travel plans go awry.
Multitasky provides fun and functional items that are perfect for work or travel. Shop travel accessories here.
You May Also Like:
Read more
Comments
✕