Best Phone Accessories For Female Entrepreneurs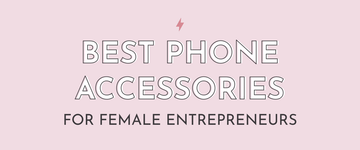 Phone accessories can sometimes be utilitarian and extremely boring. We think that's a real missed opportunity. Tech accessories can always be useful and aesthetic! 
We spend so much time using our phones. In fact, phones are one of our most useful professional and personal tools. Not to mention, every year phones evolve to help us with even more aspects of our jobs. We use our phones for everything.
The best phone accessories out there need to be practical. Of course they do. The best iPhone accessories need to accomplish the job described and do it well. That does not, however, preclude the possibility of cuteness. Phone accessories can also be fun and attractive. There is no reason why your phone accessories have to be dull tools lacking personality. You can have nice things!
Here is our cool and cute smartphone accessories list curated for entrepreneurs. You have a busy schedule. It's tough to put down your work when you're an entrepreneur and your phone is your lifeline to business. So, treat yourself.
Best Phone Accessories for Female Entrepreneurs
Selfie time is anytime! Phone ring lights are the perfect accessory for immediately raising your selfie skills to the next level. A phone ring light is what gives a selfie that professional glow on the go. Don't limit yourself to selfies though. A ring light for your phone makes Facetime calls nicer for everyone involved. Good lighting makes all visual communication more pleasant.
This ring light has three lighting effects, so you can have the flexibility to get that perfect look. It clips securely to your phone for stability even when you get excited with your gestures. Its 400 mAh battery gives you hours of use between charges.
Videos and video chatting drain your phone more than anything else. A charging stand for phones is an amazing solution to a common problem. Multitasking is one of our favorite things! We want you to be able to charge your phone while using it. It is so annoying when your phone's battery dies halfway through Facetiming. This hands-free charger stand holds your phone at a convenient angle for viewing and charges it at the same time. Now your phone will be a hundred percent charged whenever you grab it. Compatible with both Androids and iPhones. Not only does it work well, but it also comes in a bunch of cute colors!
The traveler power bank is ideal for long flights or for any other lengthy adventure between charges. This is the solution for those frightening moments when your phone is about to die and there isn't an outlet to be seen. A traveler power bank is essential for everywhere modern workflow happens. Our dual-purpose power bank will charge your devices, and it works as a pleasant hand warmer. The cute suitcase design is reminiscent of the travel you will do with this phone accessory.
As far as we are concerned, a good iPhone purse is one of the best two-for-one deals around. When you're always on the move, you only need the essentials–phone, ID, some cash, and a couple of credit cards. This iPhone case crossbody purse hold those essentials exactly. The cross-body strap is included, but you can just carry the cute iPhone case on its own if you prefer. For its slim size, this case holds quite a lot. You can keep up to five cards in the pouch or stash some cash. That coffee shop loyalty card can and should go everywhere with you.
This keychain charger is one of the most convenient phone accessories around. It's portable, small, and it gives you the power to charge all your devices at once. It's also retractable, so you'll never have to face that crazy tangle of cords again. And you can hang it off a keychain, so you'll never lose it either. This 3-port charger pairs perfectly with our cute power banks.
Travel and adventure often involve two things: sitting next to strangers and handling your phone a lot. If you put this privacy screen protector on your phone, you can feel more confident with both. It will make it more difficult for people to glance over your shoulder and check out what you're doing from an angle. So, if you're scanning important documents, you can be more confident that your information will be protected. At the same time, this screen protector will decrease the risk of your screen cracking if you happen to drop it.
Multitasky provides fun and functional items to improve your work and travel life. Shop feminine desk accessories and must-have travel accessories. 
You May Also Like:
Read more
Comments
✕