Gift Ideas When Visiting Friends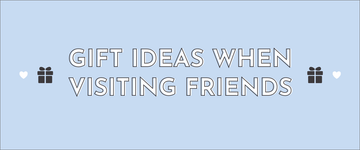 'Tis the season to Google last-minute gift ideas. Part of this month is devoted to attending parties. You have work parties to show up to. Then you have parties with friends. After those, you might go to parties with your social clubs. Sure, you've got good ideas for a lot of the people on your gift list. How about all those unexpected events though? What about those people you don't know quite as well? We all have our share of new colleagues or people who are just hard to shop for.
The holiday season is also a time when a lot of us travel. If you're traveling this season, you might stay with friends or family. It can be a great gesture to bring a gift when visiting friends' houses. It's handy to have hostess gifts that travel well. 
Whether you are traveling or attending a party, show your host or hostess appreciation by arriving with a gift in hand. Looking for last-minute hostess gift ideas can really help you make a good impression.
Even if travel or holiday parties aren't in your plans, you will probably attend a party as you ring in the new year.
So, think about this list as gift ideas from friends. We've got you covered. Here are some of our favorite gift ideas when visiting friends. They aren't just for the holidays and are great ideas for anytime of the year.
Gift Ideas When Visiting Friends
This goes right on the list of "things I never knew I needed." But really, you absolutely are going to want this gift of joy. This on-the-go Mini Karaoke Machine is undoubtedly one of the most uniquely fun gift ideas. Because of its compact and cute design, this mini karaoke machine can instantly turn any drab office event into the party of the season. How fun would it be to use the phrase "It's a karaoke emergency!" This is truly the gift that keeps on giving.
This season makes us want to bundle up and get a little more cozy. To that end, may we suggest this Fireplace Flame-Effect Humidifier Lamp? Giving any workspace or home an instant warming makeover, this humidifier does two jobs in one. It's the perfect way to cope with the way the winter wind dries out your skin. Also, you can aerosolize your favorite essential oils, and make the room smell amazing!
Charging cables are like socks: one always goes missing. People always needs another charging cable, and they'll be grateful to receive one. Especially these extra-long 5.9 ft., fast-charging iPhone cables. They come in an array of cute colors rather than bland white or gray. When your phone has very little battery life, you have no reason to worry. These fast charging cables bring your phone to a useful amount of battery power fast. Because they're extra long, they also limit the inconvenience of charging your phone. You can keep working on tasks while your phone charges without the need of crouching next to an outlet.
Nothing is more thoughtful than a useful gift like this cute usb splitter that helps out in pretty much all aspects of life. This 4-in-1 USB hub is the kind of uber-practical accessory that nobody can live without as soon as they have one. And it's a clever design–it looks like a little plane! It's so unique it'll make a person feel like it was definitely selected just for them.
Finger food is fun but sharing germs is not. Potato chips are pretty much amazing but it's better if you don't have to put your hands in a shared bowl. Get your friends and colleagues this set of little tongs specifically designed to eat chips and other finger foods. It's perfect for your friends that like to host.
This season, give the best gifts to help your friends out. Multitasky has gift ideas for every woman on your list. Browse our bestsellers here.
You May Also Like:
Read more
Comments
✕