Desk Gifts for Cute Office Spaces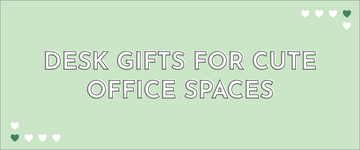 If you think about it, your workspace is sort of like an exhibit where the theme is you. Select parts of you are celebrated. Your confidence, your motivation, and your sources of energy and inspiration are all put on display. For a lot of us, our desks are places we spend a large chunk of our time. Our desks need to be a space we can feel comfortable. Additionally, they need to house necessary tools. If our desks fall short in some way, it can seriously impact our productivity.
We all want our workspace to be a nice place to work, but we also want our colleagues to thrive too! A rising sea raises all ships, as they say. We all have coworkers, bosses, or significant others whose work we appreciate. There's no better way to show appreciation than a desk gift or tool that will improve their workflow. Especially if it's cute and practical at the same time.
There are a lot of cool desk gifts for coworkers out there, and unique desk gifts for bosses. Maybe you want to add a personal touch, and you want a personalized desk gift for her. Whatever the case, cool desk gifts always show a strong appreciation.
Here are some of our suggestions for unique desk gifts that are cute and useful. They make every desk a display of personality.
Desk Gifts
It seems like everything in the workplace is easier with more light. With its flexible neck and a cute array of pastel colors, this lamp is the perfect desk accessory. It's helpful when you're doing detailed work. Or, in a pinch, it's excellent as extra illumination for that last-minute teleconference. A lamp is pretty much always useful.
A paperless office continues to be an elusive science fiction story, belonging sometime in the still-not-too-distant-but-somehow-no-nearer-future. Maintaining a truly paperless office is a goal for a lot of us. We haven't gotten there yet. In the meantime, this Rose Gold Office Accessories Gift Set is a great way to create an ordered desk.
Included in this desk-tidying gift set is…
A standing corkboard

Rose gold multi-clips

Compressible metallic desktop file organizer

Minimalist metal ink pen

Cute motivational sticky notes
All of them are designed to level up your workflow while exuding cuteness.
Having more USB ports seriously improves your day. Your workspace will be fly as a beat poet with this cute plane-shaped USB splitter. Because it turns one USB port into four, you won't have to interrupt workflow no matter how many devices you use. Multitasking is made easier, and who among us isn't wearing several hats at work?
If you're anything like me, you gesture a lot when you talk. This can make video chatting more complicated. Maybe you know someone like this. If you don't know anyone like this, it may be the case that you are this person. Save your friends, family, and colleagues the seasickness that comes with talking to you, and get yourself a cell phone charger stand. It's the best way to stay hands-free. These cell phone charging stands are compatible with iPhones and Android devices.
We put a lot of effort into how our workspace looks, but we might neglect how healthy it should be. We spend long periods of time in our workspaces. Maintaining a healthy balance in the atmosphere of our office makes for much more productive workdays. This cute humidifier is better than a regular humidifier because its elegant design contributes to your office decor.
Sometimes, you need a change of scenery. Whether you're working in a shared workspace, at an AirBnB, or simply in your screened-in porch, your comfort is still important. With this portable bottle humidifier, you can immediately improve your mobile office. Anywhere.
A one-size-fits-all ideology has always been the overwhelming principle of laptop design. We deal with it because adaptability is among humanity's chief accomplishments. However, with inventions, we can solve problems like a lack of ergonomics in our office equipment. This portable laptop stand is one such invention, making a laptop a far more comfortable tool to use.
The answer to the question, "How did they get that professional look in their TikTok or webinar?" is a simple one. They probably used a ring light. Cameras on phones have gotten so good that the only excuse any of us have for unprofessional selfies is insufficient lighting. This portable ring light turns your desk into a studio. It's perfect for getting just the right glow whether making videos or joining a Zoom meeting.
For anyone who prefers things to be pretty in pink. This pink desk pad is perfect for anyone who likes a tidy space. Equipped with a lot of convenient pockets, this vegan leather desk pad keeps your calendar, notepads, and more in order, allowing you to focus on what's important.
Two things every office needs: sticky notes and statements of encouragement. We love a two-for-one deal over here, so we thought, how about we make some sticky notes that come with notes of encouragement? Sounds like a good idea, right?
When you're on the go you need a cute go-to bag. This vegan leather laptop bag carries all the essential equipment you need to work anywhere. It's the perfect size for laptops up to 15.5 inches. Fill all the pockets with the gadgets that make your business function smoothly. You can even customize it with a name or business logo.


Find your perfect desk gift at Multitasky. Shop feminine desk accessories.
You May Also Like:
How To Organize Your Office Desk
Read more
Comments
✕