Coolest Phone Accessories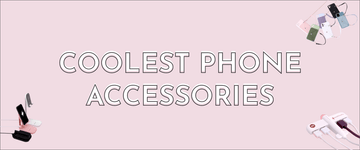 Our phones have become our best friends when it comes to productivity. You can run an entire business with your phone. Everything from bookkeeping to processing cash transactions, to recording and editing the fun moments that define your brand.
Then, when the work day is over, your phone remains your go-to object. It helps you decide where to go and how to get there. Once you do get there, your phone helps you send out your rallying call to your friends. And it'll always be there to capture the moments you want to remember for the rest of your life–and sometimes even the ones you pretend you'd rather forget, but that turn into the best stories.
Since it's your most effective piece of equipment, your phone deserves the coolest phone accessories. Mobile phone gadget accessories can remove inconveniences. Nobody wants a dead phone at those moments when you have to send an email or snap a pic. The best phone accessories save you space or increase your tidiness–things we all need! And our smartphone accessories list is pretty cute too. That's never a bad thing.
Whether you have to keep up with emails, plan a meeting, or take that perfect selfie, equipping yourself with the best phone accessories keeps you prepared for anything. If you struggle to keep your phone charged, we've got you covered. Or if your bag is usually a mess, we can help with that too. Or if you need to take your content game to the next level, we have fixes for that.
Here are a few of our favorite mobile phone gadgets and accessories.
Coolest Phone Accessories
Watching videos or video chatting with friends are two of the things that drain your phone the most. It's always great to charge your phone while doing other things. Rather than risking your battery dying halfway through your call, this hands-free charger stand holds your phone at a convenient angle for viewing and charges it at the same time. Now, when you are done watching that how-to video, your phone will be a hundred percent charged when you pick it up. This charging stand for phones is compatible with both Android and iPhone devices.
Leave your bulky, messy handbag behind. In today's busy life, it's comforting to know you always have the essentials. Doubling as a crossbody purse, this cute iPhone purse makes carrying your smartphone the same as carrying your most important stuff. The vegan leather case fits up to five cards and a stash of cash. It comes with a mini-strap or crossbody strap, so it goes with any outfit.
Up your selfie game with our minimalist phone stand. Record way more professional videos, reels, and selfies with this foldable, extendable phone holder. You'll never have to hold your phone while making content again.
Running out of USB ports can really throw off your workflow. Make your workspace super fly with this plane-shaped cute USB hub. It turns one USB port into four, so you can carry on with your tasks no matter how many devices you need to plug in, such as your phone. It's an ideal way to make multitasking easier.
Getting the best bang for your buck is extra satisfying. And this cute power bank is a three-in-one tool. It's a mobile power bank that can charge two phones at once, it's a hand warmer, and it's also a compact mirror. In terms of both cute and useful, it doesn't get much better.
This is an ideal power bank for long flights. For all those stressful times when your devices are about to die and there isn't an outlet to be seen, a traveler power bank is essential for everywhere modern workflow happens. Our dual-purpose power bank will charge your devices while warming your hands when temperatures drop.
This desk cell phone holder turns your phone into an acrobat. It gives your phone the flexibility to make your workflow easier. Our multi-angle, extendable phone holder makes it possible to keep a closer eye on your screen without taking up your hands. Maximum adjustment options level up your multitasking.
Charge all your devices at once with this multi-ended keychain charger. It's retractable, so you'll never have a tangle of cords in your bag again. Pairs perfectly with our cute power banks.
Achieving that professional glow is hard on the go. But when you're out and about, it's hard to remember your ring light. Or it used to be. Now you can take this ring light with you as a phone accessory. Get the best possible glow with every selfie with this clip-on LED ring light for your smartphone.
Shop the coolest phone accessories and more at Multitasky. Elevate your lifestyle with trendy, (fun)ctional & aesthetic gadgets.
You May Also Like:
Best Travel Accessories for Women
How To Make Your Office Space Fun Yet Professional
Read more
Comments
✕