Best Travel Accessories for Women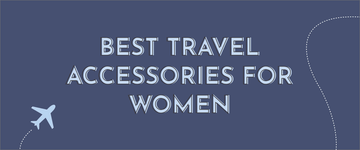 The world can be your office. That's one of the big upsides of living in a globally networked world. Everyone can treat anywhere like their office. From national parks to conference rooms. From coffee shops to living rooms. You can start working on something on a balcony looking at the Rocky Mountains, save it, travel a thousand miles, and pick up where you left off over a cocktail on the beach near San Diego. It is pretty cool to get to a level of tech where all your equipment is portable enough to make your office anywhere.
Let's hijack the metaphor of the bug-out bag. You ever heard of the bug-out bag? It's a bag with all the stuff you need for a spur-of-the-moment trip. There might be a change of clothes and your toothbrush. It might be a good idea to include some non-perishable snacks. In proper bug-out bags, people usually keep stuff for surviving out in the wilderness for a while–a tarp, thermal blankets, waterproof matches maybe. Remember, we're hijacking the idea. We want to put together a kit for surviving the urban jungle, not a green one. Fewer vines and more bars.
We might still need a change of clothes. That's always a good idea. Non-perishable snacks are just smart. It's probably prudent to keep a pack of wet wipes and a pack of tissues in there. Floss is always a good idea. Chapstick. Deodorant. It needs to be a kit that, if you have it, you're ready for a spontaneous trip across the country.
Some of the items for your Spontaneous Trip Kit can come from anywhere. For specialty items and stylish travel accessories, we've got you covered. Here are a few of our favorites. These are the best travel accessories for women to have on hand. They're great for long flights, short flights, or any kind of travel.
Best Travel Accessories for Women
Few things are more annoying than pulling one end of a charging cable from your bag only to find the other end tangled in with a half dozen other charging cables. If there is anything more annoying than that, it isn't coming to mind right now. Organizing accessories can make a big difference to your day. Our handy cord organizer pouch will keep your charging cables tidy. In other words, keep your gadgets happy with your charging cables, while saving stress with a cord organizer.
This is one of the best travel accessories for long flights. It's impossible to remember all the times you've found yourself in that stressful situation where your devices are about to die and there isn't an outlet in sight. A traveler power bank has become a must-have for modern workflow and all the places it happens. Our power bank has a dual purpose. It'll charge your devices, and while it does it'll serve as a hand warmer. A two-for-one is great for any spontaneous travel kit.
And if that wasn't enough, how about our…
This power bank is a three-for-one deal. Just like the traveler power bank, it's a handwarmer, but it's also a compact mirror. It's hard to get cuter or more efficient than that.
Of course, you need a bag to keep your spontaneous travel kit in. This vegan leather laptop bag is perfect. It's the perfect size to hold any laptop, up to 15.5 inches. Use it to store your life, taking full advantage of its pockets to organize your kit. Or, use it for your laptop, which is how it was intended. Afterall, your laptop might be your lifeline.
The bag is vegan leather and compact, so you can roll it up and store it neatly on those rare times it's empty. Or, you can use it as a mousepad. Conveniently, it's also waterproof.
Nothing can throw off your groove more than when you need to charge your phone in the middle of something. Well, gone are the days of crouching awkwardly next to an outlet. This almost six-foot-long charging cable provides far more mobility.
Do you remember a few paragraphs ago when we discussed the most annoying thing that might happen? This could be a strong competitor. When several of your devices start to go dead at the same time, and you don't have enough USB ports to plug them in. This 3-port USB Keychain charger gives you the flexibility to charge more devices at the same time. It pairs perfectly with our power banks.
Your spontaneous travel kit should have a toothbrush. And you should store your toothbrush in something because nobody wants a dirty toothbrush. Our travel toothbrush holder is well-designed with good ventilation and has adorable pastel color options.
Of course, when you're committed, just bundle everything. It's great to bundle good products together. Get a Traveler Bank/Hand Warmer, Retractable 3-Port USB Keychain, and Travel Cord Organizer Pouch. And it all comes in a cute travel bag. It's a perfect (FUN)ctional gift set!
Multitasky has innovative and functional products for traveling, home, or the office. Browse our best travel accessories for women or our bestsellers here. 
You May Also Like:
Gift Ideas When Visiting Friends
Read more
Comments
✕