8 Badass Female Entrepreneurs We're Celebrating this Month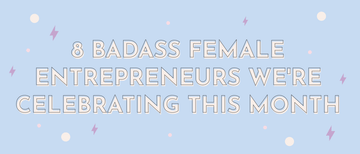 March is the month of the WOMAN, so we wanted to celebrate by highlighting some of our favorite female entrepreneurs. These women range in industry, but they all have one thing in common. They're not afraid to innovate, shake things up and create incredible businesses – even when others doubt them.
Take a look at these 8 women. We hope they inspire you to never settle. Because even though this month is for celebrating women, here at Multitaky, we celebrate women every single day.
Zhang Xin
She started as a factory worker and now she is the co-founder of SOHO China, a real estate development firm in China. Her career started when she graduated from Cambrige University and started working for Goldman Sachs. Now, looking at her company – she's made $3 billion. Talk about a story where someone's grit and passion takes them to creating an empire that's touched the lives of so many in Beijing.
Beyonce
You may known her as the woman-inspiring singer-songwriter from Destiny's Child, but Beyonce's entrepreneurial spirit comes in the form of her brand. She's a huge selling solo artist and created a brand recognized around the world. But her fame goes beyond the fact that she's Beyonce. Her company, Parkwood Entertainment makes everything from movies to music to clothing. She even signed a $60 million deal with Netflix for her content to be shown. Talk about leveraging a global brand to reach even more people through media.
Arianna Huffington
She's most famous for starting Huffington Post, but Arianna Huffington is has a global reach through multiple media brands. After stepping down from Huffington Post, she started and became the CEO of Thrive Global, a health and wellness startup. She's one of Time magazines 100 most influencial people. And it makes sense. Her media outlets allow 1000s to have a voice and tell their story. She a natural for bring timely content to the right audiences at the right time.
Tory Burch
If you're big into fashion, we're sure you've heard of Tory Burch. She launched her company Tory Burch in 2004 and now it brings in about $1.5 billion in annual sales. In 2020, Forbes made her one of the most powerful women in the world. Beyond the badass vibes she gives off in the fashion world. We love how she's a philanthropist who started the Tory Burch Foundation to support other female entrepreneurs.
Rihanna
You've heard her name come up A LOT in the past couple of years. And for a really good reason. She's killing it! She rose to the top by becoming a superstar in the music world then launched Fenty Beauty. Her cosmetics line is a major contributor to her $1.7 billion dollars in wealth. But this list would be incomplete without talking about Savage X Fenty - her lingerie line and the Clara Lionel Foundation which has raised $47 million for climate change, COVID relief and racial injustice. What can this woman NOT do?
Sheryl Sandberg
Have you read the book "Lean In"? Sheryl Sandberg led a movement of women when it comes to opening up about a woman's role in the workplace. You've seen her name grace high-powered companies like Walt Disney, Facebook and the Center for Global Development. With a net worth of $1 billion and some FIERY opinions, she embodies the idea that women should speak their minds and not play small.
Kiran Mazumdar-Shaw
We had to put India's first female entrepreneur on this list. With $3.7 billion in net worth – this powerhouse woman founded Biocon in 1978. This biopharmaceutical company sells to 120 countries worldwide. We love seeing women blaze the way for other powerful women all over the world.
Debbie Fields
Love cookies? So do we. Mrs. Fields Bakeries is one of the largest fresh cookie retailers in the US. The reason we're featuring her is because her personal brand has some major reach. 11 counties, 650 US-based bakeries and 80 worldwide bakeries. She believed in her product that she was able to become a household name by leaning into that passion. Go her!
This month, we're inspiring you to look at the women in your life. Celebrate the women who are making moves, both big and little so we can all collectively grow into whoever we want to be. As women, there is nothing we can't achieve.
Read more
Comments
✕