10 Cute Home Office Tech Gadgets to Give Out This Holiday Season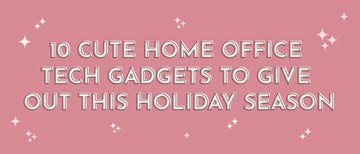 It's almost that time of year. With the holidays around the corner, you're probably wondering what to get the special people in your life. So whether you're purchasing for a tech-fanatic, from-home CEO, or cute office accessory extraordinaire – Multitasky's got you covered this season with home office tech gadgets.
Pull up your peppermint hot chocolate, cue the carols, and let's dive into our favorite home office tech gifts to give to all of the people on your list.
Home Office Tech Gadgets
Shopping for a creative? This ring light set has everything you need to create some fire content in 2022. Master the lighting with the adjustable ring lamp and charge all your gadgets at the same time. This way, you'll never miss a second when you're conquering the 'gram.
You know that friend that always has cold hands and an empty phone battery. You're about to make her December with this adorable gift. This traveler power bank charges up your gadgets AND warms your fingers so you can walk into every room warmed up and ready to roll.
Phone stands are one of the hottest gifts this year because they make calling, watching videos, following recipes, and scrolling social media easy and hands-free. This adjustable phone stand is always the perfect height, and you can fold it down into a tiny cube for easy storage.
A designer purse? Not quite, but man, does it look like one. If there's a glamorous CEO in your life, give her this versatile laptop bag. It's easy to take everywhere and oh-so-stylish. Warning: she might ditch her purse after receiving one of these.
For the techiest person in your life, this Flyport USB hub will change the game for their devices. With multiple charging ports, they can now put juice in all their gadgets at once. They'll never be stuck trying to find all the outlets to monopolize.
Sometimes your techie friends need a little screen break. Bring back the simple joy of handwriting with this multi-talented notebook. The vegan leather cover adds some sophistication, while the smooth paper inside makes for a joyful writing experience.
Everyone needs a touch of dreaming in their day. This rose gold set is ideal for the woman who takes pride in the cuteness of her home office setup. With a diverse array of clips, this set is as functional as it is fashionable. Just wait until all her papers are perfectly organized with matching, glimmering clips. No one will come close to her home office set up.
You know those days when you just need your phone and some credit cards, then you're good to go. For minimal ladies everywhere…that's every day. Give this to your friend who always leaves the house with the world's smallest, lightest purse. Trust us: by ditching her purse for one of these, she'll be ecstatic.
One of the newest items in our line-up, this speedy charger is great for the person who needs a charged phone all. the. time. Looking at you, on-the-go creative entrepreneurs. Old phone chargers take forever just to get you back up to 20%, but this one accelerates the time it takes to reach full. Give it to the person who could definitely benefit from this added efficiency.
2022 is the year where our dreams will come true. Okay, we can't say that too loudly because the universe might have other plans. But every strong woman deserves a place to make her desires and intentions known to the universe. This Manifestation Box is full of everything she needs to dare to dream and turn her scary goals into her reality.
Sometimes it can feel like the holidays are creeping up on you. Didn't we just zombify ourselves and scare children? But the truth is, spooky season is over, and holiday cheer is coming soon. With Multitasky, you can easily find home office tech gadgets as gifts for your entire list. Gifts that are not only fun and fashionable, but also functional and versatile. This way, your special people will be cherishing your gift for years to come. 
Read more
Comments
✕