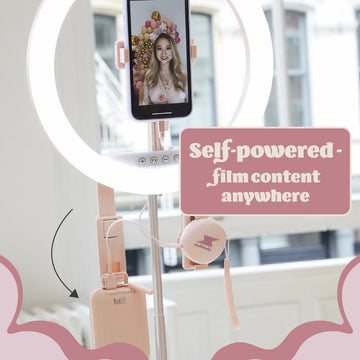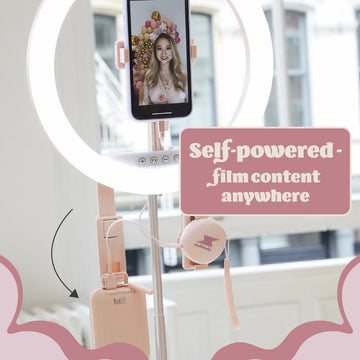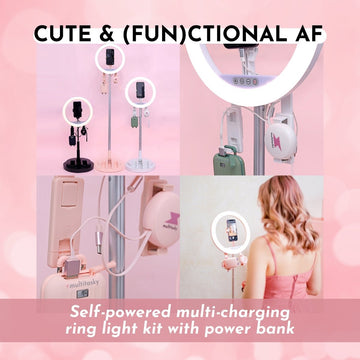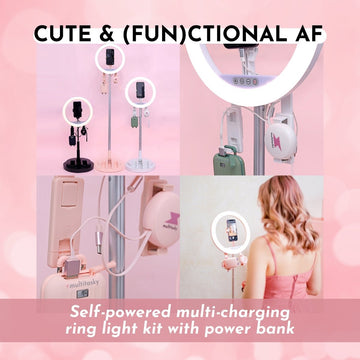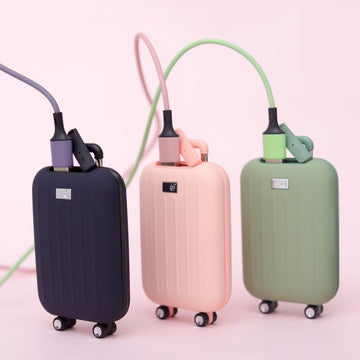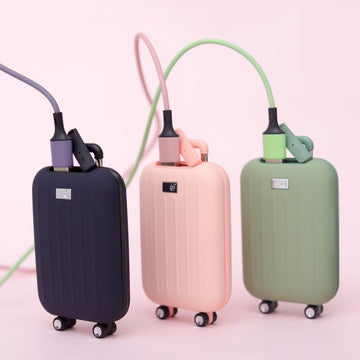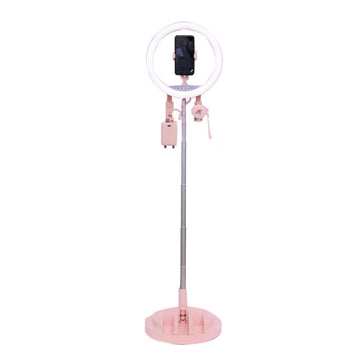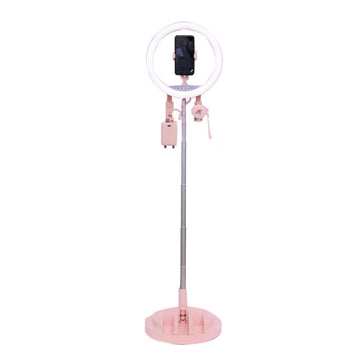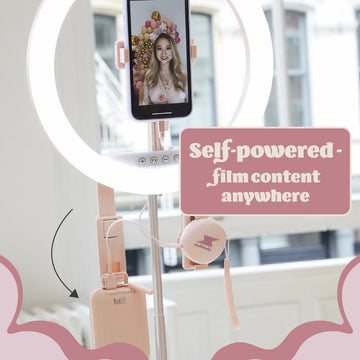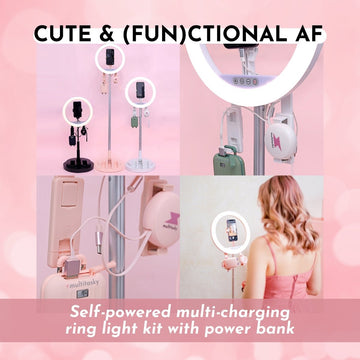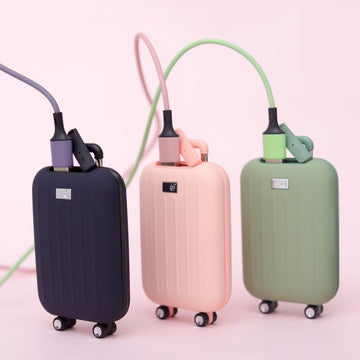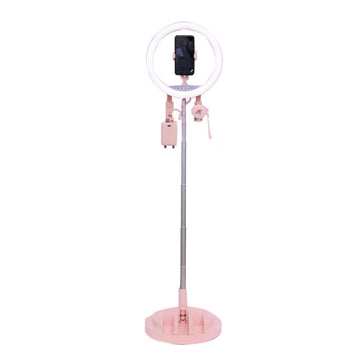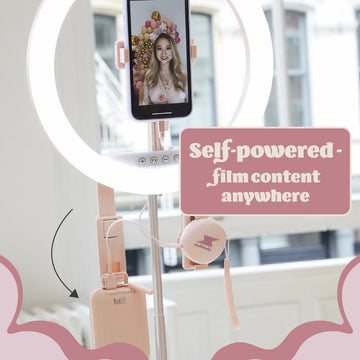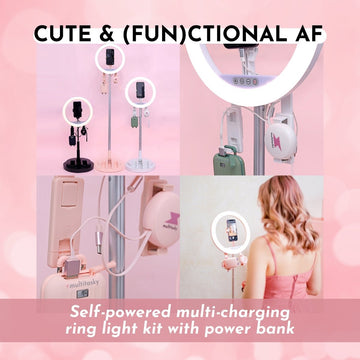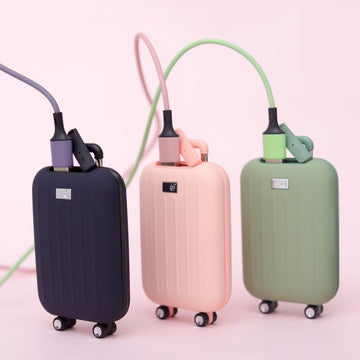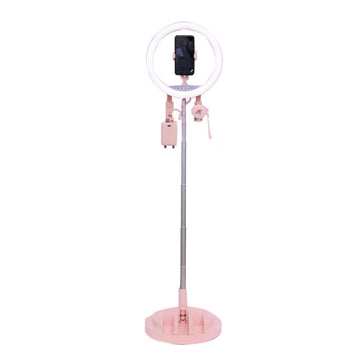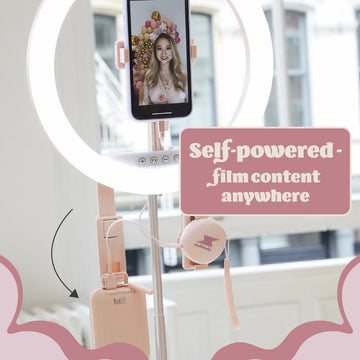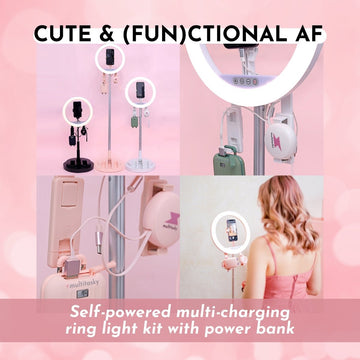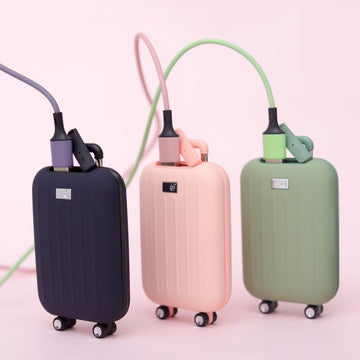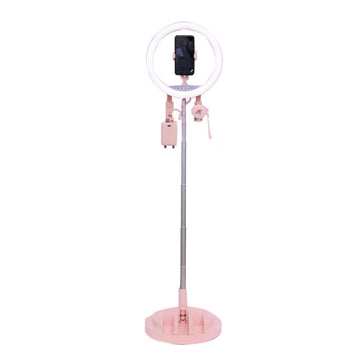 Creator On-Screen Kit - Multi-charging Self-Powered Portable Ring Light Set
 * Note: Traveler power bank contains lithium batteries and can only be shipped in the US domestically.
A self-powered, portable ring light kit that charges your phone simultaneously (goodbye wall plug)!

No more extension cords or outlet treasure hunting! This self-powered ring light charges your phone while you shoot (up to 2 hours), so you can focus on looking cute AF on your next Tik Tok / reel or Zoom call. Plus, it extends up to full standing height 5' 6" and will fold into a completely flat disk for easy storage.
And wait - see that adorable suitcase-shaped power bank? That's also a handwarmer. AND that 3-cord USB? That can retract into a keychain and let you power the ring light while simultaneously charging your phone. When we say this is a must-have for creators, we mean it. Elevate your content creation with tech that makes your life way easier. 
(Phone holder can be rotated 360 degree - tilt it downwards for overhead / tabletop shots! The ring can be rotated 180 degree as well. Perfect for art creators!)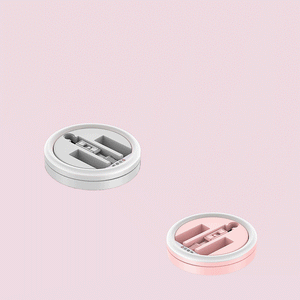 PRODUCT DETAILS
"OMG! Best Ring Light Ever!" Light up your life (and your content strategy)
Note: The ring light itself DOES NOT have built-in battery - pls order the traveler power bank and 3-port USB separately, or purchase the Self-Charging Ring Light Kit (best value)!
You know you want one. All of your favorite influencers have this way of looking perfect every single time they turn on their camera. No creepy side lighting...ever!
With this foldable ring light that extends to full standing height (5'6") with 360-degree rotating phone holder, you can create professional content for your personal brand with ease. It's both adjustable and foldable while giving you ample ports for all your devices, and comes with three light modes (warm, cool, neutral) with adjustable brightness.
Plus, did we mention that it has 3 phone holders? Use it to hold multi-devices, or our traveler power bank to turn it into a self-powered multi-charging ring light kit. Now, go make that Tik Tok / reel with confidence.
(Phone holder can be rotated 360 degree - tilt it downwards for overhead / tabletop shots! The ring can be rotated 180 degree as well. Perfect for art creators!)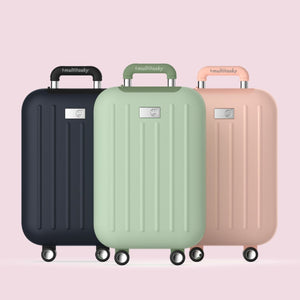 PRODUCT DETAILS
* Contains lithium battery - can only be shipped to the US domestically (No international shipments, sorry!)
Cute AF! Is this a Power Bank? AND a Hand Warmer?!
How many times have you been out and needed a charge? Impossible to count, right? This fun traveler power bank has your back when your phone decides to die right as you leave the house. Plus, with a built-in hand warmer, you can warm up frozen fingers in a flash. Take this power bank hand warmer with you every time you need some extra battery life and warmth. 
Large 5500mAh battery capacity can fully charge up a completely dead phone (and more)

Doubles as a hand-warmer to keep your fingers warm

Compact and lightweight (and even shaped as a suitcase). Perfect for on-the-go!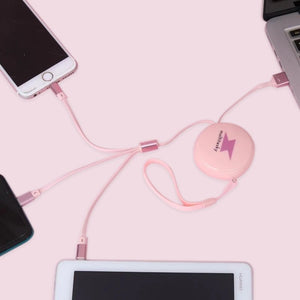 PRODUCT DETAILS
Charge all your devices in one keychain
It's not always just your phone that needs a little extra juice. Sometimes you need to charge your e-reader, Bluetooth speaker, fitness watch, or earbuds. And when you're on the go, you rarely have all of the charging cords at the same time. Now, you'll never miss a beat due to a dead battery.
* We love pairing this with our power banks - you can use this 3-port USB Keychain Charger to both charge your phone and your power bank using the different heads! No more messy cords everywhere!
*This is not a power bank