How To Make Your Office Space Look Fun Yet Professional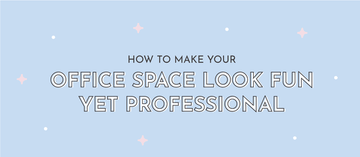 Your office space is where you get your million-dollar ideas, interact with clients, and have some of your most productive moments. Basically, you spend A LOT of time in there. It makes sense that you want an area that's professional and fun at the same time. Because if you love your surroundings AND are pumping out the productivity, your career will flourish, and you'll love your workspace.

Here are our top 5 tips for striking the perfect balance between fun and professional.

Make it Tech-Friendly
You need great tech to function, but that doesn't mean it has to be a mountain of boring cables all of the time. Make tech fun by investing in some fun, multi-talented tech accessories. The Macaron Power Bank Duo / Hand Warmer with Mirror keeps your fingers nice and toasty and charges your phone on the go, so you never have to struggle to find an outlet when you're in your day's deep work.
Another key feature of keeping your workspace fun is keeping it organized. Tangled cords are a definite vibe killer so make sure you keep everything easy to access by using the
Flyport Cute USB Hub 4 in 1
.
Last but certainly not least, you have to focus on your phone. As a go-getter, your phone is blowing up all through the workday. By keeping it on a stand, you can stay productive and utilize it when you need it. The Phone Lover Set comes with an extendable + adjustable phone stand, 4 in 1 USB hub, retractable 3-port keychain, and magnet set. This way, you can organize your phone and phone cords in style. 
Find Your Vibe
What kind of office do YOU want to have? It sounds simple enough, but there's a big difference between a minimal office and one that's decked out with houseplants. By figuring out your work style, you can create an office that's inspiring to you.

Add photos if you like to feel connected at work, or put up some modern art above your desk if you like having a pop of color to lift the mood. Connect to your boho side with a shaggy rug, or hit up the IKEA for a fun, Scandinavian-inspired minimalist desk. Suppose you love the relaxing oasis vibes in your workspace - you have to pick up either a Spa Designer Humidifier Lamp  or Refresh Humidifier Lamp.
Have an Inspiring Zoom Background
So much of our work-life is on video now. That's why focusing your fun on your Zoom background is a great way to express your personality and keep things professional. Add artwork, a whiteboard, some books, or your favorite print to spruce up a normal white wall.
If you love dreaming big and want to portray that on your Zoom calls, be sure to grab the Daydreamer Office Set. You'll get the standing cork bulletin board, rose gold clip set, desktop file organizer, and deluxe metal ink pen. You'll be giving off CEO vibes without even trying.

And if you're living for the new whiteboard trend, then pick up the Desktop White Board Set (with White Ink Marker). You can use it to write fun messages or even scribble down a few notes on a high-stakes Zoom call.
Make Writing Fun
With everything all techie these days, sometimes it's fun to go back to pen and paper. Treat yourself to some fun stationery by getting the
Japanese Pilot FriXion Erasable Tricolor Pen
 and
Everything Notebook B5
. You'll be able to write down some notes, reflect on Q3 goals, or plan out the future of your biz in style.

Looking to really embrace the pen and paper life? Grab the Free-Spirit Writing Set to get both the everything notebook and erasable pen. It also comes with some spare paper.
Get Creative With The Lighting
Gone are the days of a boring desk lamp and lackluster overhead lighting. Add a pop of brightness to your office with these fun lighting solutions. You'll also appear way more legit on Zoom calls if you have enviable lighting solutions.

Use the Creator On-Screen Kit - Multi-charging Self-Powered Portable Ring Light to power all of your content creation sessions. With a power bank included, you'll be ready to record reels all day. Then switch over to the Transformable Portable Lantern Lamp for late-night work sessions and the Clampy Bendy Lamp for on-the-go productivity moments.
You May Also Like:
Setting Yourself Up For Success
Read more
Comments
✕