3 Ways to Practice Self-Love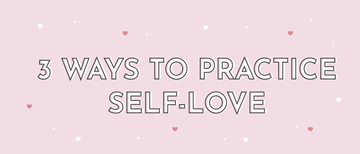 There are two types of people in this world. The ones that LOVE love and fully embrace it...and the ones that avoid all that mushy-gushy stuff. No matter which side you fall on, here at Multitasky we are big fans of self-love. Because if you shower yourself with affection and compassion, you're better equipped to express love to those around you.

Here are our 3 favorite ways to love yourself today and every day!

1) Pamper Yourself
You don't have to have a partner to engage in the chocolate eating and hot tubbing. Showing yourself a little extra care and attention works wonders when it comes to releasing stress and resting your body. You could turn on the spa humidifier, do a face mask, and listen to your favorite tunes. We're also big fans of champagne, *finally* buying that thing you've been eyeing for months and eating your most craved snack. Remember, this is for you, not the 'gram so feel free to do all those quirky things that make you super happy.
We all have our insecurities. When it comes to loving yourself, it's all about accepting your entire self and not just those traits that you perceive to be positive. By looking at yourself as a holistic person and not just a productivity-machine, business person, or supermom, you can love yourself for who you *actually* are. Take out a journal and reconnect with your personality, feelings, and experiences. Sometimes it can be hard to know who you're becoming when your days are moving at lightning speed.
Every day can be a time to come together with the people that you love, but it can also act as a "reset" button. In order to welcome love into your life (especially self-love), you have to release toxicity. Something as simple as a toxic thought can wreak havoc on your relationship with yourself. Practice releasing beliefs that are holding you back, find affirmations that make you feel powerful, and cut out anything that is not serving you. We guarantee this extra space will fill with what you're truly looking for.

It's time to reconnect with all of the love in your life. That love that you're extending to yourself is just as important as the love you extend to others. Remember, you're in a relationship with yourself for life. You want to make sure it's a good one.
You May Also Like:
Best Travel Accessories for Women
Read more
Comments
✕