Setting Yourself Up For Success in 2022: It's Goal-Crushing Time! Happy New Year from the Multitasky Team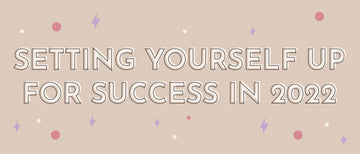 Did you break open champagne? Watch the ball drop? Have a magical moment? 
We're so excited for you this year for many reasons. 
Reason #1: We can't wait to see you setting yourself up for success and manifesting everything that your 2021 self is dreaming of.
Reason #2: We live for New Years Resolutions around here!
So, we thought we'd give you a little step-by-step process so you can create great ones.
Here's Your Guide For Setting Yourself Up For Success in 2022
1. Think Big Picture
What do you want to accomplish this year? Even if it scares you, say it. Put it out in the universe. This is your big resolution. The one you're going to revisit every month. One way we love committing to this big goal is creating a word or a theme for the year. So let's say you want to finally quit your day job and go full time in your biz. Your theme of the year could be "LAUNCH" or "TRUST". 
 
Use our newly launched Conquer Your Day Planner Sheets to plan out the blueprint to achieving your big dreams.
2. Create Action Steps 
Big picture can't be everything. Your theme is great for centering your intention, but you need to make it happen. What would it take for you to accomplish your resolution? List out everything you need to do and be specific. This is crucial for setting yourself up for success. For our last example, you might want to save some money, hire a business coach and get 3 clients a month before you say 'bye' to corporate life.
 
Use the Daydreamer Rose Gold Office Set to write down your plans & to-dos.
3. Repeat 3 Times 
Everyone says "focus on one thing at a time" but we're balanced, multi-passionate women over here. Make sure you create goals for every aspect of your life. If your big goal was work-related, think about personal growth, health, relationships, family, spirituality and lifestyle resolutions that are probably equally as important.
Now, pull out your Feel Good Writing Set and let's make big things happen for you. 
Cheers to an amazing new year. 
Love,

The Multitasky Team 
Read more
Comments
✕