10 Great Gifts for Entrepreneurs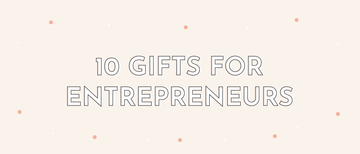 Ever wonder what to get the awesome entrepreneurs in your life? Female entrepreneurs can be a tough bunch to buy for because they know what they want, and they go out and get it. With that being said, if you give them a gift that supports their hustle, they'll appreciate your kindness more than you know.
Here are 10 gifts that would make any female entrepreneur leap with joy. Use this list next time you need to shop for that perfect present. 
Gift For Entrepreneurs
Her laptop is her prized possession. It's where she takes business calls, checks her too-full inbox, and drafts her newest ideas. This vegan leather laptop bag will let her protect her computer in style. With buttery soft leather and the ability to customize it with her name or logo, you can bet she won't be leaving home without it! And when she's done toting it around, she can also use it as a laptop stand.
She has marketing to do! This foldable ring light set is a great gift for entrepreneurs because it's easy-to-use, versatile, and crazy effective. With this light, she can look her best on Zoom calls, reels, and networking sessions. It's also adjustable and extendable + it can hold multiple devices at once. It also comes with a cute power bank and 3-port USB so she can always get a great charge with easy cord access. Great lighting and simple tech are what she needs to feel confident and scale her business.
If her business goals and dreams are big, she will absolutely appreciate the way you support them. The Daydreamer Office Set gives her everything she needs to manifest her dreams and write down the specific goals that will get her there. With the corkboard, mini-clip set, file organizer, and deluxe metal ink pen – she can easily take note of what she wants to achieve and have the confidence to make it happen with this gift set.
Every female entrepreneur needs a daily moment of zen. This elegant humidifier lamp is sure to give her the oasis air and calm ambient lighting she needs to recharge and breathe. It's like a spa in her living room.
She has big dreams, and she needs a great gift to help her realize them. This standing cork bulletin board acts as a practical vision board, giving her space to stick her tasks and quarterly goals. This way, she can organize her life and manifest her desires.
Does your female entrepreneur friend need a little extra help with organization? If she's always doing 800 things at once, chances are the Ultimate Desk Pad is exactly what she needs. It has a built-in calendar and ruler so she can easily plan out her week and accomplish her goals.
Even though tech is hot right now, there is something to be said about a great paper product for inspiration. This gift is perfect for the entrepreneur who needs a place to put all of her wild ideas and million-dollar thoughts down. It's also great for reflecting and journaling at the end of a busy week or month. No matter how she uses it, the Multi-Talented Notebook is sure to impress.
The CEO in your life needs tools to fuel their busy schedule. This ultimate set includes tech tools that will make her life way easier. With an extendable phone stand, flyport USB hub, and clampy bendy lamp, she can easily make tech work for her and not the other way around. Just imagine how good it's going to feel when tech and lighting problems just don't happen to her anymore.
She's always doing a million things at once. Making her do that weird next-to-outlet crouch is not something she enjoys. This extra-long charging cord always lets her get the charge she needs from her comfiest chair. This way, she can engage with her network on Instagram and kick her feet up after a long day.
Did someone say paper products? If the female entrepreneur in your life loves the feel of printing out her wildest ideas, then help her organize with these rose gold clips. They're stylish and strong, making them perfect for displaying on a desk or keeping all those loose papers together.
Which gift is best for your fav female entrepreneur? Tell us in the comments! 
You May Also Like:
Read more
Comments
✕