Female Founder Series with Angela Caglia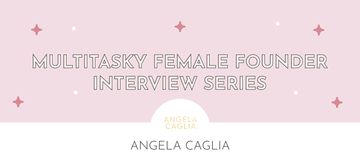 This week we got a chance to sit down with Angela Caglia, founder of Angela Caglia Skincare, as part of our Female Founder Series. 
How did you get started?
My love of skincare began as a young girl growing up on my grandfather "Pops" large farm in Central California. He farmed apricots, grapes, plums, nectarines and shipped them globally.  While my siblings loved eating fruit straight from the tree, I relished in creating the freshest face masks and scrubs with it.  I became obsessed with concocting the best textures and aromas and immediately applying my homemade masks directly onto my skin.  Pops instilled in me a respect for the land, and always took great pride in the quality of what he produced.
While farming is in my soul, exploring the world is in my blood.  My first trip off the farm, while still in college, was to Paris to attend the Sorbonne.  It was there where I discovered the art of the facial and was mesmerized by the skincare rituals of the French woman. I knew when I returned to the US that I wanted to get my esthetics license along with finishing my business degree.
As fate would have it, I moved to Carmel, California after college where I soon discovered the recently opened and only training institute in the US for the venerable French botanical skincare brand, Yonka Paris.  I asked to work their front desk (and I'm proud to say I was their first hire) while simultaneously pursuing my esthetician license.
Once accredited, I gave facials 8 hours a day and fell in love with the business of making women feel and look more beautiful.
How do you innovate in the beauty industry?
When it comes to innovation,I always trust my gut, while resisting the urge to look at what my competition is doing.  I focus on my clients, and, by extension, my customers who buy my products.  
Do you have any fears? How do you manage them?
My biggest fear as a business owner is not letting myself get down when things are challenging. Being an entrepreneur is not for the faint of heart.  Each day brings new challenges.  I'm solution oriented so the lows only make things more exciting. I also never think of having a backup plan.
What has been the most satisfying moment in your business journey so far?
Every day on my business journey as an entrepreneur has been satisfying on some level because I finally feel a sense of control over my own destiny.  There's no greater satisfaction than believing and betting on yourself.
Where do you pull your inspiration from?
I draw inspiration from my clients in my treatment room.  I've dedicated 25 years of my career to making women feel more beautiful and now I'm able to do it on a much larger scale since starting my skincare business.
Describe what a successful entrepreneur looks like to you.
A successful entrepreneur is someone who never loses sight of their vision or belief in themselves.
For more information, visit www.angelacaglia.com
Read more
Comments
✕