10 Must-Have Dorm Essentials You Need in Your Life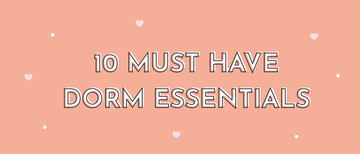 There's something so fun about having a new dorm room that's your blank canvas to decorate. Whether you're sending off your college student or creating a Pinterest for your new school year, dorm decor turns an average college living space into an inspiring oasis.

And especially after the last year we had, you deserve to make this upcoming school year stylish, fun, and exciting with items that make recharge time in your room extra joyful and relaxing. Here are 10 dorm essentials that we can't get enough of over here.
This versatile lamp is the dorm supply that you will use all. the. time. Turn it on for some late-night study sessions when your roommate is sleeping early pre-8 am lecture. Use it as a reading light when you're looking to read in bed. Use it as your main lamp if you're struggling with space. No matter how you clampy bend, this lamp is about to illuminate your next year. 
Multi-Angle Extendable Desk Phone Stand
This dorm essential is perfect for those days when you're doing 800 things at once. Simply rest your phone on the stand, adjust it to the perfect height, and tweak it for that perfect angle. Then *boom* you can call your roomie to see if she wants to grab dinner off-campus, watch TikToks to procrastinate, or catch up on your latest Netflix binge from your desk. 
Dreaming of vacay days and charging everything at once? Get a heavy dose of USB ports so you can easily do your work without trying to find an outlet all of the time. Plus, with an extension cord, you can sit where you'd like without worrying if you're close enough to the only outlet in the room.
Soft lighting is the dorm essential that can take your dorm room from 'eerily minimal' to 'wow, it's so cute in here.' This lantern light is easy to move around, collapsable and bright -- making it the ideal lamp for a tight dorm room. Just imagine how it will look when it's lighting up your hometown photos and collection of succulents.
If you're looking for dorm supplies that combine fun and functional, you have to start looking at bulletin boards. The old-school design creates a polaroid hipster feel, but the practicality makes it ideal if you're prone to missing appointments and classes (no, judgement...we've been there). All you have to do it pin up reminder slips, then put up some fun photos to keep your dorm aesthetic strong.
Rainbow Extra-Long Charging Cable (5.9ft)
Let's talk about charging. The worst feeling is when you're having a late-night convo with that new cutie from down the hall only to realize you're on 1%. You're so nestled in bed, that getting up and sitting by the outlet feels like a chore. Spare yourself this feeling by springing for an extra-long charging cord. You'll never sit on the floor again just to get a charge.
Space is precious in a tight dorm room. That's why you need dorm supplies that will organize and make things easy to access simultaneously. This cute rose gold file organizer will hold all of those random (probably important) papers that you tend to lose. It can also organize your books, syllabi, and keepsake items.
 Desktop White Board Set (with White Ink Marker)
Leave your roomie little messages in style with this whiteboard set. Use it to write down your favorite affirmation, communicate weekend plans or test out your art skills. You'll love cultivating your aesthetic with this dorm essential. Warning: everyone might come over and want a turn to write a message.
Okay, we need to have real talk. Dorm air can be rough on your skin sometimes. Bad ventilation, viruses, dry air -- it's not great. A humidifier is the dorm essential that will keep your skin feeling supple and hydrated all day long. This way, you can emerge from an 8-hour study session looking like you just spent your day at the spa.
Organization should be the goal of all dorm supplies. That's why the Ultimate Desk Pad is the ideal dorm item for categorizing your life. With a calendar, ruler, and pen spot you can organize your day from the comfort of your desk. Classes and exams are not getting missed on your watch.
Overachievers unite! The daydream office set takes all of your favorite dorm supplies and combines them into one dorm-loving package. You'll get the standing corkboard, rose gold clip set, desktop file organizer, and deluxe metal ink pen. This way, you can spruce up your whole workstation as you prep for that scary course.

Are you ready to decorate your dorm room? We can't wait to help you make your dorm extra special so you can have an awesome year. You deserve it!
You May Also Like:
Read more
Comments
✕