How to Create Career Opportunities for Women at Work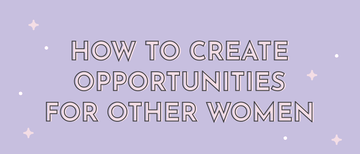 After watching Kamala Harris become the first female vice president (and first female VP of color), we couldn't help but feel this incredible sense of joy for this powerful woman. It's easy to feel inspired when you watch her speak her mind, problem-solve compassionately, embrace authenticity, and rise above challenges.

And since she and Joe Biden are being sworn in today, we wanted to highlight how you can create opportunities for the strong women in your life.
1. Amplify female voices

You're at a big conference table, and a female has a great idea. No one says anything or continues to talk. Two minutes later, a man has the same idea, and the entire room erupts with praise. Sometimes female voices get overlooked in the workplace, especially in male-dominated industries. If you find yourself in this situation where another woman's idea is dismissed, it can be helpful to come to her defense and say, "Yeah, ___ was saying that. I think it's an awesome idea." The same applies to social media. By helping other women speak their mind and tell their stories, their thoughts will spread farther and faster, therefore having more impact.
2. Encourage sharing accomplishments

When a woman accomplishes something great, she may feel nervous about sharing it. Sometimes, women who are open about their greatness are seen as arrogant, power-hungry, or braggy (even by other women). By creating space for the women in your life to speak openly about their strengths and share their accomplishments, you'll give them the confidence to promote more often. By talking about themselves and sharing their gifts with the world, more people can benefit from what they have to offer.
3. Mentor other women

In your career, you grow by learning from those who have been in your shoes. If you're an established business owner, help newer entrepreneurs get over that initial hump by offering to answer their questions by email or hopping on a phone call. If you notice that someone is shy, send them a friend request and let them know your door is always open. By allowing women to seek help and promote the open exchange of information, more women can access business knowledge that leads to growth.
When you lift up other women, share their business with the world, and shop women-owned, you are making a statement. You are investing in them and helping them scale. And when one woman scales and shatters glass, we all rise with her. 
How do you create career opportunities for the women around you? Let us know in the comments. 
Read more
Comments
✕