How To Find Balance During This Holiday Season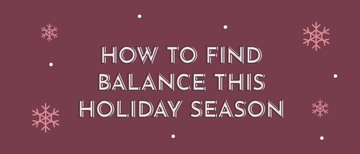 When December hits, it feels like fall is out, and the only acceptable emotion is "merry and bright." What people aren't talking about is finding balance, because a typical holiday means lots of family, cooking 20 dishes, and making sure you found the perfect gift for everyone.

But this year, it may look like contactless peppermint hot chocolate pick-ups and praying your package gets here before the 25th. In some ways, this holiday season may be even more stressful than usual. You're probably feeling some mix of "merry and bright", uncertain and unbalanced. And that's completely fine. Just look at the past year we had.

Even with everything that's going on, it's important to find or maintain balance even as things get hectic. By balancing family, work-life, you-time, and your passion projects -- you can feel merry knowing that you're taking care of yourself and giving your family a little extra cheer.

Here are our three favorite ways to make sure you're balanced and not overwhelmed. 
1) Block Out Recharge Time
Whether the family is coming to stay with you or you're prepping your eyes for some long Zoom get-togethers, having time for yourself is necessary. As you're planning your family holiday, spread out events where you'll all be together. If you're having lunch over Zoom, take a break in the afternoon, then have everyone rejoin the link for tea and cookies 3 hours later. You can always go up to a quiet space, breathe in your Spa Humidifier Lamp, then come back ready for family game night.
2) Take Time Off, But Only If You Want To
Over here, we're a big fan of PTO whenever you want (gotta love the freelancer life). But also realize that freelancing means you choose if you want to work. If taking a full two-weeks off makes you feel even more stressed, then take less time off. If you're working on a cool project or trying to push your course out...working a couple of hours on the 29th is not a mortal sin. You do you, just make sure you're planning some recharge time by blocking it out in your Everything Notebook.


3) Embrace Imperfections
Finding balance is a total myth. There are some periods where we're way too into our work and others where we're spending time on the couch. Giving too much energy to any one thing happens, so forgive yourself for it. If you feel overwhelmed or frustrated, let yourself feel your feelings. Too much is happening in the world for you not to give yourself the space to be imperfect. Check out our Flawsome Humidifier to show yourself some appreciation and self-love.


Pop those cookies in the oven because this holiday season is about to be a sweet time for you. Just don't forget that you also deserve to give yourself the gift of balance and relaxation in this period of giving. 

Cheers to an amazing holiday season!
You May Also Like:
Best Travel Accessories for Women
Read more
Comments
✕