5 Productivity Hacks for Working from Home (Hint: Work Smarter, Not Harder)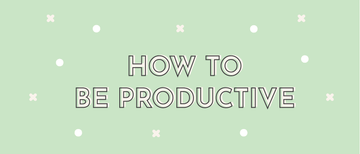 Productivity is a hot topic right now. I mean, you have endless planners to choose from, apps that promise to end distractions, and innovative modern-looking co-working spaces just waiting to adopt you.
But increasing productivity isn't rocket science. Here are our 5 favorite ways to boost productivity...
Get Organized
You have a lot of tech going on. You're on your laptop, your phone is two centimeters away from you, and your earbuds are probably tangled up somewhere near you. It's a lot to keep track of. Organize your cords so that you never have an "oh crap, I'm on 2%" moment in the middle of a discovery call. Try The Flyport Cute USB Hub to keep your charging station organized all day.
Batch Your Tasks
Look, we know our name multitasky probably makes you think that we're very pro-multitasking. We love it when you pursue lots of different things, but not at the same time. Set daily blocks to check your emails instead of constantly getting interrupted from audible notifications. You'll notice that always switching tasks can really slow you down. Check out The Ultimate Work Pad with built-in planner sheets and calendar to keep your to-do list organized.
Plan Your Day
For us free spirits, this can be a tough one. As tempting as it is to see where the day takes you, the day can easily get away from you. Although the bullet journal artists like to make us think otherwise, planning is actually a pretty simple process. Grab The Everything Notebook and some Erasable Tricolor Pens to write down today's top 3 priorities.
Optimize Your Comfort
If you're thinking about your achy lower back or stiff neck, there is no way you're going to be able to focus on that very long email that you have to respond to. Treat yourself to an ergonomic chair and make sure you have adequate lighting. The Clampy Bendy Lamp is an easy way to brighten up your space, especially when your work extends into the night.
Relax
If you're running on empty, you're not doing your best work. Taking a step back and recharging is the key to productivity. I don't know about you, but I would rather have a very productive 4-hour workday than a nonproductive 12-hour day. Take a few moments for yourself with our spa-like humidifiers, then see what it feels like to come back to your work refreshed.
Because honestly, it's not all about productivity. It's about you doing what you love, making an impact, and creating this awesome life. Remember that your worth does NOT come from your output.
You May Also Like:
7 Eco-Friendly Office Supplies
How to Create a Productive Workspace at Home
Read more
Comments
✕