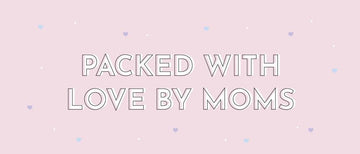 An inside look at the Multitasky fulfillment team

When you receive a package from Multitasky, we want you to love it. Not just the multi-talented products inside of the package, but also the packaging. That's why we make sure every package is wrapped with love and care.

Our fulfillment team is made up of Corina and Kareen. They are both moms that have an eye for detail and a love of pretty packages.

Corina Ivy
Corina is the Operations Manager at Multitasky. She's a mother of two and a lover of all things fashion and beauty. She's also an entrepreneur! In 2017, she co-founded City Grub Fest, an international food festival. And she's the owner of Nana Aiko, a luxury line of curated mink lashes.
Originally, she joined the Multitasky team because she wanted to learn more about the e-commerce space. Once she got here, she discovered a community of supportive women and a brand that she really believes in. Her favorite part of the job is that she can geek out on the structure and process of our supply chain and it's totally encouraged! She puts her heart and soul into every package, so you'll 100% see the love when you open one up.

She balances her day by setting non-negotiable priorities. If she can get those done, she feels accomplished and easily forgives herself for not doing everything under the sun. Her favorite Multitasky product is the Elegant Humidifier Lamp, because it makes relaxation time super easy and calming.
Kareen Bedewi
Kareen is the Fulfillment Associate at Multitasky. She was born in Beirut, Lebanon and has a 22-year-old daughter. During the day, she works full-time as a clinical psychologist. She finds fulfilling orders super relaxing, so she'll often crank up some Billie Eilish and make packages in the evenings. Some of her hobbies include reading, taking long walks and collecting an excessive number of plants.
She joined the Multitasky team because she enjoys supporting women-owned businesses. She loved our mission and wanted to collaborate with the rest of the team to ensure Multitasky products can inspire female entrepreneurs worldwide. Her favorite part of the job is by far wrapping products with care and love. She treats every order like it's a gift to her best girlfriend, making sure it puts a smile on your face when it arrives. She describes her job as fun, upbeat and positive as she works closely with Corina.
Her favorite item is the Badassery Cactus Humidifier. As a psychologist, she's all about promoting a sense of peace (especially after this *yikes* past year). When she plugs hers in, her entire room turns into a luxe spa. And she chose the cactus because it satisfies her love of plants.
We love our fulfillment team! Next time you receive a Multitasky package, remember that it was packed for you by one of our awesome mompreneurs.
Read more
Comments
✕