How to Build a Virtual Team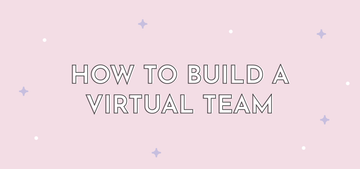 Your business is growing, and you're at the point where you're thinking, "Do I go at this alone, or do I create a virtual team?" The decision to hire might feel scary. Your business is your baby, so giving up even the smallest piece of it might feel terrifying.

Then, there's the cost. Finding quality freelancers can be expensive. Can you afford that each month? All of these reservations and fears are totally normal. It's important to recognize your fears, but not let them stop you from making changes and scaling this beautiful business that you've created.
When I started Multitasky, an e-commerce shop for cute home and office accessories, I did everything on my own. I stayed up every night until 4 am, researching organic marketing, figuring out FB ads, playing around on Shopify, and setting up fulfillment in China. Being "on" and starting this business was exhilarating, but it was also exhausting. With that being said, I'm happy with my decision to do everything myself in those early days. I have a new appreciation for certain tasks, and I now know how long a quality job can take.

But once I had a firm grip on my business's direction, I knew it was time to figure out how to hire a virtual team. The biggest mistake I see new founders make is thinking that they're saving money by doing everything themselves. Nope! As a founder, you're the most valuable asset your company has, and your time is precious. You should be spending time on activities that you do very well and tasks that are critical to your business's success. Everything else, you should outsource to talented people who can do it just as well (or ideally better!).

Here's an example for you. Since I have a strong background in financial modeling, I will 100% do that for Multitasky. I'll also make all of the hiring decisions and overall strategic objectives for the company. These are tasks that I prioritize daily. Yours might look different, but the key is to stay in your zone of genius and assume the role of CEO.
Once you figure out what you're doing, you have to figure out what you're NOT going to be doing anymore. Make a list of tasks that you're doing every day. Things like social media posting, marketing, copywriting, and customer service would be some examples. And don't forget the small stuff. Sending a quick email or doing a website update may seem trivial, but they're taking time out of your day.
With your task list in hand, find experts in every area. Notice how I didn't say find one unicorn who does everything. Why? It doesn't exist. You're way better off splitting your freelancing team into specialists, whether it's designing, copywriting, video marketing, or social media management.

Once you make a hiring decision, the work doesn't stop there. It's important to continue reevaluating your team's performance to see if they're truly adding value. You may have to make some tough cuts since underperforming team members could be costing you money that can be better spent elsewhere.

Make sure you resist that temptation to micromanage. There will be mistakes. They are going to do things differently than you would do them. Things will have to be explained, especially in the beginning. It's important to trust that your team has your back. After all, you hired specialists with immense talent and a proven track record.

Take the role of motivator and give them the space to give you their best work.
Hiring a virtual team can feel stressful, especially if you need multiple people. As much as you may want to take a shortcut and hire an agency to do everything for you...an agency is not a magic wand solution. First of all, they're costly, AND they won't have nearly as much invested in your business as a team of hard-working freelancers. Do the work, find your people, and celebrate your successes together.

Trust me, your team is about to be your greatest asset.

Read more
Comments
✕