How to Make Recording Video Content a Breeze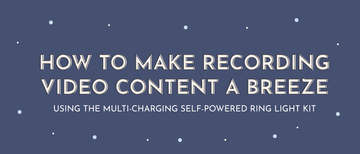 You've heard it 800 million times...video content is king. We live in an era where attention spans rival that of a goldfish, and faces are the new commercial. It's no longer enough to write a long FB post about your business and pray people buy things and follow you. You have to show up as you with your beautiful face and speak authentically to the entire Internet. 
This can be A LOT of fun, but it can also feel a little stressful. By grabbing our Creator On-Screen Kit - Multi-charging Self-Powered Ring Light, you can gear up for your next Reel batching day. Here are our favorite ways to ensure your video recording sessions are seamless, fun, and effective.
Invest in a Ring Light
Lighting is the make or break when it comes to the quality of a video. Bad lighting can lead to people scrolling past or creepy dungeon vibes. I'm sure you've heard the age-old "stand facing a window" advice...BUT sometimes there is no window. Or the window is in a weird location to film. Yes, we're looking at you, light and airy bathroom-- the things we'll do to achieve that perfect lighting.
By investing in a ring light, you can free yourself from the endless window search. It's a powerful light that you face when recording, and it mimics the beauty of natural light. All of your favorite influencers 100% have one, so it's your turn to get on board. Our Creator On-Screen Kit - Multi-charging Self-Powered Ring Light is a must when it comes to creating professional-looking videos.
Get in the Right Headspace

Do you get nervous recording? Are you creating something funny? Are you about to announce a new launch? Make sure you're in the right headspace when it comes to starting a recording. Do a little dance to loosen up, smile at yourself in the mirror, or sing your heart out to some Adele. Whatever it takes to show up on camera fearlessly and purposefully.
Make Charging Your Gadgets Easy 
Recording videos always means having a lot of moving parts. You have your phone, maybe a camera, your ring light, your laptop, and even a tablet. The worst feeling is getting everything set up only to realize that something is about to die. No one needs a 1% moment when they're producing fire content.

The best way to remedy this is to invest in multifunctional charging devices. In the Creator On-Screen Kit - Multi-charging Self-Powered Ring Light, you'll get a 3-cord USB so you can charge all of your devices at the same time. 

Always Bring a Backup Power Source

The ring light frees you from the window; now we're going to free you from the power outlet. When recording videos, you should be focused on your script, purpose and background NOT on your proximity to an outlet.

In the Creator On-Screen Kit - Multi-charging Self-Powered Ring Light you'll receive a ring light, 3-cord USB AND a suitcase-shaped power bank. Even if you're far away from an outlet, your devices will live on and thrive through all of your videos.
Show Up As Yourself

It can be tempting to see other business owners and video creators and think…"My videos need to be like ____ to be good." Nope. Scratch that! It's one thing to draw inspiration from creators that you admire, but you don't have to (and shouldn't) be like anyone. Get on camera and crack some sarcastic jokes. Wear your hair in braided pigtails. Laugh loudly. Test out that bright pop of lipstick. Your videos should feel like you, conveying your personality and sharing your unique perspective. 
At the end of the day, video content is meant to be fun and exciting. By preparing for your video shoots, embracing your personality and taking a deep breath you can ease into some awesome content.
The
Creator On-Screen Kit - Multi-charging Self-Powered Ring Light
is a kit that was MADE for creators. Whether you're an entrepreneur, content lover, business owner, freelancer or influencer -- this kit was created with your needs in mind. You'll get a high-quality ring light to achieve that "wow" lighting, the 3-cord USB to charge ALL of your gadgets and the suitcase power bank to make on-the-go charging easy.
We can't wait to see you go viral!
Read more
Comments
✕