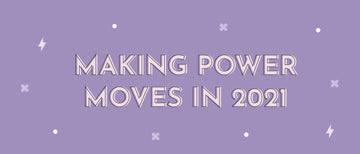 We're at that point in the year where we're breaking out the 2021 planner like fancy champagne post-graduation, because we are ready to celebrate the possibilities that this new year is bringing us.

It may have been a tough year for your business. You may have had to make a monthly pivot or lean into your side hustle as you transitioned out of your full-time job. No matter what this past year threw at you, we're ready to help you make those bold power moves and level up in 2021. We can just kinda feel it; you're going to do great things.

If you're feeling a little lost, have no fear. Keep on reading to see our step-by-step process to get clear on what you want and then jump into it headfirst. Present you doesn't even know what's in store for future you quite yet, but man, it is going to be exciting.
Step 1: Get Clear

It's hard to know what goals you're going to crush when you don't even know what you really want. Block out an afternoon and write down what you want to accomplish. Want more money? Write down that perfect number. Ready to ditch the corporate life? Start playing around with your business name. Want to pivot your current business? Let the train of thought leave the station. This sheet of paper is going to help you figure out which power moves you'll be making.
Write  your goals down in your very own Custom Vegan Leather Multi-Talented Notebook.
Step 2: Manifest
Manifestation has turned into a big buzzword, but all that popularity shines a light on how powerful it is. When you manifest your dreams, you are bringing ideas to life, then changing all your thoughts and actions to align with this dream, allowing you to reach it. If you want a little extra help manifesting your goals, treat yourself to
the manifestation kit from our collab with Societygal.
Caution: You might get hooked when you realize just how capable you are at turning your dream life into your tomorrow.
Use the Standing Cork Bulletin Board to help visualize your goals.
Step 3: Make Radical Decisions

No, not skydiving, although if that's what you want, jump out of that plane. Radical decisions mean making choices before you are completely sure of the outcome. For example, you have this business dream but aren't sure it'll work. A radical decision would be quitting your full-time job and pouring hours of energy into your business each day. Other radical decisions are charging your worth or ditching that toxic client relationship. Radical doesn't mean reckless, but radical decisions may make you feel uncomfortable while you're making them.
Chase your dreams with the Daydreamer Office Set.
Step 4: Practice Confidence Daily
You didn't come out of the womb confident. Your confidence is shaped by internal beliefs that have been shaped by your experiences. The good news, you can practice confidence and get better at it the same way you can learn how to cook the best lasagna. An easy first step that you can take today is to start the day with positive affirmations. Tell yourself, "I am capable" and "I can do anything I set my mind to." If you don't typically use affirmations, building yourself up may feel a little odd at first. But with daily practice, you'll start believing that you are the person to be living out your dreams, and you can totally do this.
Don't forget to take care of yourself with the Elegant Humidifier Lamp.

Remember that power moves are supposed to feel scary. If you're shaking before clicking "Send" on a high-stakes email, you're embracing your inner power. Growth is not seamless or comfortable, but you can handle everything life throws at you and more.

Now, go create that dream career. The Multitasky team believes in you every single day.
You May Also Like:
YouTube Equipment for Beginners
Read more
Comments
✕