Manifest Magic with the 2021 Manifestation Kit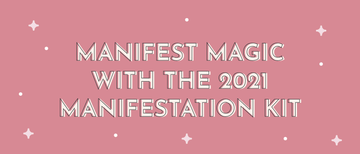 When that pink box came to the front door, I ran downstairs like a kid in a candy store. My Societygal x Multitasky Manifestation Kit had arrived. Societygal is an online community and app for creative female entrepreneurs to collaborate. If you're thinking, "Wait! That's me!" you can join the group. 
If you're unfamiliar with manifestation, it is when you set an intention and then turn that intention into reality by aligning your thoughts and beliefs with your end goal. It is far more powerful than simple "wishful thinking" because you are in the driver's seat of your destiny.

It's a term I've heard a million times in the entrepreneurship world, but I was ready to try it for myself. And 2021 couldn't be a better time to step into my power and turn my dreams into my reality.
Inside The Box
The Moonlight Candle
Sometimes you just want a little

hygge

in your space. This stunning candle smells delightful and turns your workstation into a relaxing nook. As soon as I lit it, all I wanted was a classic novel and some ginger tea. And the bottom detailing is so pretty that you'll casually put it in the background of all of your discovery calls.


The Elegant Diffuser Lamp
I pulled out this gorgeous light pink humidifier and did a little happy dance. No amount of chapstick in the world can save my lips from winter dryness. All you have to do is fill it with water, then let your skin drink up this added moisture. Once you turn on the lamp, you'll feel like you're actually in a spa.


The Natural Lavendar Calming Essential Oil
Something about lavender always relaxes me. After a long day of work (or a difficult client), you need a little something to take the edge off. Yes, there's wine, but aromatherapy is something that can diffuse all day long, giving you constant calm. Add it to the pink crystals and embrace your home office oasis.


The Pink Heart Wall-Hanging Vision Board Set
One big aspect of manifestation is creating a vision board or some sort of visual, then looking at it every day. This visual allows you to continually remind yourself of your intention, therefore bringing you closer to turning it into reality. So grab your favorite photos and embrace your vision because when you define it and believe it, you accomplish it. 


The SG Vegan Leather Notebook
When you want to manifest something, you have to write it down. When it's in your head, it's easy to lose track of, so paper makes it real. That's why to-do tasks always get done when they're on a Post-it note. Make journaling a part of your manifestation habit and see your journey as it's progressing.


The SG Ivory Pink Pen
I'm such a pen girl. There's something about handwriting that feels so personal. But any letter writers or paper planner fans know that the pen can make or break the experience. This pen was smooth and easy to maneuver, making writing with it a joy.


The Pink Crystal Marble Set
Set your intention. Instead of just casually saying it while you're brushing your teeth, choose a time in the day when you're fully present to tell the universe what you truly want. The pink crystal marble set is your focal point when you're practicing this. Hold it in your hand and believe that you are beyond capable of manifesting whatever you want. 


The SG Manifest Magic Vision Card Set
Affirmation practice involves you saying positive thoughts to yourself throughout your day. The trick is to say these thoughts in the present tense so you can believe that this is who you are

right now

. "Money flows abundantly through me" is far more powerful than "Money will come to me eventually." Put these vision cards everywhere, so you're always surrounded by positive affirmations.
Are you ready to manifest magic in 2021? Allow this manifestation box to ground you and support you while you set powerful intentions. Get your manifestation box and accomplish everything your heart has its eye on.
Read more
Comments
✕