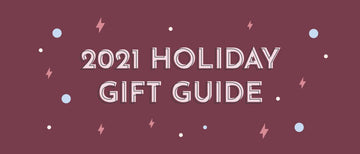 We can smell the fresh cookie and pine scented candles from a mile away because the holidays are coming up. And right now, you're probably frantically searching for the perfect gifts for your favorite people.

We got you covered! At Multitasky, we have gifts for everyone on your list. Take a look at the holiday gift guide below, then cross gift shopping off of your to-do list. 
First of all, she's going to think this is adorable. Second of all, she could definitely use some extra on-the-go storage space, especially when she's jet-setting to an in-person event. 
Scribbler Desk Set
Handwriting big ideas is trending. Let the entrepreneur have her space to scribble down 3 AM ideas, take client notes and manifest her dreams. She deserves it. 
At Multitasky, we stand for the optimized, non-boring workstation. This set will give a business owner everything she needs to roll up to her office in comfy PJ pants and crush her day. 
The laptop goes where she goes. Make sure it's protected with this stylish vegan leather laptop bag. It also doubles as a Vogue-approved purse so she can leave her designer bag at home. 
She loves hyping herself up with the best affirmations. Sticky notes let her wake up, write and embrace her daily journey. 
Your self-care lover is going to adore turning any space into a spa-like oasis. She's taking the chill wherever she goes. 
Too hot? Never. Give this gift to the person on your list who's always craving a breeze. It's so subtle, people won't even know it's a crisp fall day for them in July. 
She has big plans for herself, and she 100% expects to relax while the universe helps her. Make it easy for her to put her dreams into the world so they can happen. 
Macaron Cute Power Bank Duo / Hand Warmer with Mirror




Part of self-care is limiting stress. This duo means your gift receiver never has to dread 1% or frigid winter days. An all-around win if you ask us. 
No weird fridge smell? Yes, every time. This little egg makes kitchen freshness super easy. 
She loves her comfort, so make her space ridiculously relaxing. This spa humidifier lamp brings the yoga studio vibes to her living room.
Glow Getter Candle Humidifier Lamp




Make her house a dream-growing oasis. She'll love the relaxation and remind herself to chase her glow daily. 
       4.
Multitasking Floor Mop Slippers with Removable Sole
          Just wear them, walk and mop. These slippers were invented for the                      house lover who dislikes cleaning.
Extra-Long Lightning Phone Charger - Super Fast iPhone Charger                          (10   ft)
          Moving is rough, especially when you're cozy in bed. Now she can                          charge up and keep scrolling -- distraction-free. 
  Our best-selling item! A must-gift if she creates content, does Zoom calls,      or  runs an online business. 
Traveler Power Bank/Hand Warmer




Techies love their multi-purpose gadgets. Now, she can charge up and warm her fingers simultaneously.
Desktop Whiteboard Set
            A logical thinker? Yes, she definitely needs a place to flowchart her                          brilliant ideas.
Multitasking Foldable Ring Light
            If you have a more lowkey content creator on your hands, take the ring                  light set down a notch and give her this powerful, 'basically a window'                    ring light. 
Ultimate Desk Pad
He likes to keep his desk organized. The desk pad will make staying motivated and on-task way easier.


Minimalist Foldable Desk Phone & iPad Stand
Tech-lover? Minimalist? Phone user? He could use a phone stand. In just a minute, he'll be taking Zoom calls hands-free. 
     3. Feel-Good Writing Set
         Does he love to write? Sometimes the men in your life want a                                  computer break. Give them the freedom to jot down some brilliant                          ideas.
Transformable Vegan Leather Laptop Bag Set
          He loves his laptop, but right now, it's bouncing in a backpack. Give it                    some extra protection with this added layer.
Multi-Magnet Duo Magnetic Clips
          He'll love the added ease these clips bring. He'll never lose his                               charger or earbuds again with these magnets. 
Now that you feel good about your gifting skills, it's time to treat yourself to some mulled wine. On behalf of the entire Multitasky team, have an amazing holiday season! We wish you lots of rest, laughter, and fun. Because we know when you come back in the New Year, you'll be fired up to crush all of your goals. 
You May Also Like:
Read more
Comments
✕